Pressure Canning Recipes Cookbook: The Complete Beginners Guide for Learning How to Pressure Can and Preserve Vegetables, Meat, Soups, and More in a J (Paperback)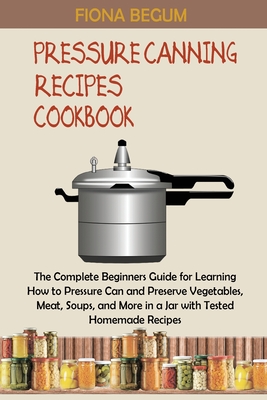 $20.99

Usually Ships in 1-5 Days
Description
---
Your Complete Guide For Safely Pressure Canning Your Favorite Veggies, Meats, Soups, and More
When you pressure can your foods at home, you are more acquainted with the ingredients whipped up together for your canned food, unlike the canned foods from the grocery store with dangerous preservatives. Nothing is more tragic than eating contaminated food caused by botulism that may lead to death; more deaths from botulism continue to increase due to unsafe practices of pressure canning foods.
The pressure canning process is not rocket science and tedious, as many people assume, and even if you are a beginner, you can get started in no time to safely preserve your favorite foods. However, you must be well equipped with the necessary knowledge and equipment to pressure your foods. What other way can this knowledge be obtained if not through this
Pressure Canning Recipes Cookbook
that I have put together just for you.
This pressure canning recipes cookbook details how to pressure can your favorite meat, broths, vegetables, stocks, seafood, poultry, and many more with tested homemade recipes clearly explained in the simplest of words and will equip you with the recipes needed to preserve your foods right from the comfort of your home.
Below are snippets of what you will learn;
Foods that should be pressure cannedFoods unsafe to can at allTypes of pressure canners and their functionalitiesRules for pressure canning your foods safelyImportant tools required to pressure can your foodCommon pressure canning mistakes and how to avoid themPressure canning FAQs and answers that address common home canning concernsTested and safe recipe instructions for vegetables, such as asparagus, beets, carrots, mushrooms, etc.Tested and safe recipe instructions for meat, poultry, and seafood, such as chicken, turkey, beef, clams, oyster, crab meat, etc.Tested and safe recipe instructions for soups, stocks, and broths, such as vegetable soup, chicken soup, beef broth, meat bone broth, chicken stock, etc.
And many more
So what more are you waiting for?
Get a copy of this book
RIGHT NOW
to get started.