Rocky Mountain High Technology Directory 2022 (Paperback)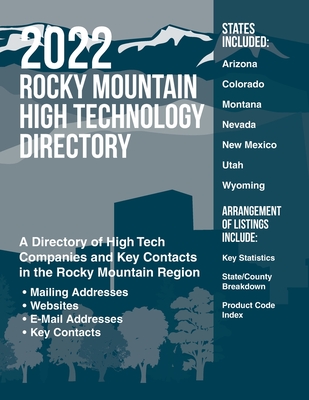 $186.00

Usually Ships in 1-5 Days
Description
---
With the emergence of new technologies rooted in the regions scenic wonders the Rocky Mountain area of the U.S. continues to be a hub for high technology companies. States like Colorado, Utah, and Wyoming continue to attract established companies as well as young entrepreneurs, consistently making it one of the leading regions in the U.S. for population and job growth. This edition of the Rocky Mountain High Technology Directory provides the most up to date information on over 3,500 of the top high technology companies throughout the Rocky Mountain region (Arizona, Colorado, Montana, Nevada, New Mexico, Utah & Wyoming).
Each company listing provides the main address, phone number, North American Industry Classification System Code, and a short description of the products and services offered. Most company listings also include a fax number, web address, e-mail address, year established, and number of employees. In addition, the directory includes the names of key contacts and decision makers in each company, providing essential information to job seekers and marketing/sales representatives.
Listings are arranged alphabetically within each state, and each state section includes a city index, NAICS index, employee number index, and new company index. NAICS coding is used as the primary means of classifying company functions.