Spanish Grammar for Beginners: Learn the Basic of Spanish Language with Practical Lessons for Conversations and Travel (Paperback)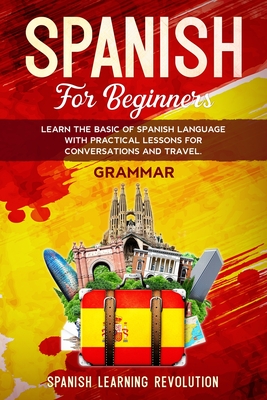 $20.99
Email or call for price
Description
---
❒ 55% SPECIAL DISCOUNT FOR BOOKSTORE NOW AT 20.99$ INSTEAD OF 27.99$ ❒Whether your customers want to learn Spanish for fun, for work, or travel, with this book, you've got their back Have you always been fond of learning Spanish but just never felt confident enough to learn a new language?
Are you curious to understand those hit Latino songs without looking at the lyrics? Watch your favorite Netflix series without subtitles, without taking long-hour Spanish lessons or spending an extended amount of time in a Spanish-speaking country?
Don't waste your time on useless lessons that teach you only about the theory. With our new revolutionary course, you have the opportunity to learn from native Spanish speakers about the secret of learning the language, and the truly useful tips to be able to write and speak Spanish in everyday life.
The traditional method taught does not give you efficient results. Hours and hours of studying the rules would only make you lost. Think about how you learned your native language... When you were finally able to speak the first few words... Did you study the theory? Or you simply listened and emulated what your parents said to you?
The fast and steady growth of the Spanish speaking population has made Spanish a necessity in business and a key language, with more than 400 million native speakers all over the world and as second language in the USA and Europe.
That's what you will learn:
You will understand the basics of the Spanish language, such as spelling and pronunciation
You will focalize on the important parts of speech
A list of fundamental verbs
Discover the four types of sentences
The authentic ways to communicate in Spanish
Improve your ninja kit useful baggage of words to order food, ask information in the airport, find the best deal while shopping, and manage any emergency or health issues.
Over 1,000 common Spanish phrases that you can learn on your downtime.
Practical exercises for everyday life
And much, much more...
Even if you never open a language book before or you were never involved in any Spanish classes, the practical approach of this book together with the practical exercises will guide you step by step in learning Spanish. In less than no time, without even realizing it, you will begin to understand the texts in the songs, movies, and talking in Spanish.
Click the BUY NOW button and offer your customers enjoyable aspects of Spanish learning so that they will want to come back again, and again, for more