Raising Llamas: The Ultimate Guide to Llama Keeping and Caring, Including Tips on How to Raise Alpacas (Hardcover)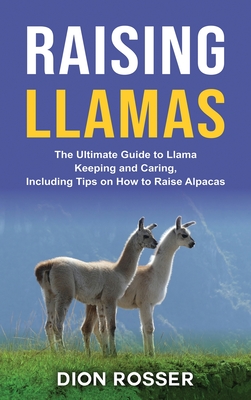 $29.99

Usually Ships in 1-5 Days
Description
---
If you want to learn how to raise llamas, then keep reading...
Have you recently heard a lot about llamas and alpacas?
You might have learned that they make great pets and can fetch you a pretty penny.
Do you want to know more about raising these cute, intelligent animals?
This book answers every question you might have concerning these amazing animals.
You will discover...
The 7 Things You Should Know Before Buying your First Llama or Alpaca
Why You Should Start Raising Llamas
How to Understand and Handle Llama Behavior
How to Identify the Various Breeds of Llamas and Alpacas
Simple, Detailed Indoor and Outdoor Requirements for Housing Llamas
How to Manage Climate Changes in Your Llama Housing and Facilities
Why Does Your Llama Spit?
Dangerous Diseases that Affect Llamas and Alpacas
Learn What to Do when Your Llama is Giving Birth
How to Care for a Newborn Llama
10 Helpful Tips for Your Llama Business Journey
And much more
With this book as your guide, you can have your herd of llamas or alpacas for utilitarian reasons (packing), keep them as pets, or use them in your fleece business venture.
The instructions and advice contained in this book are clear, practical, and easy to follow. From your first purchase to cria birth, this book will be a handy companion.
Get it now by clicking the "add to cart" button, and enjoy a smooth, profitable journey with llamas