Horseshoes vs. Chess: A Practical Guide for Chamber of Commerce Leaders (Paperback)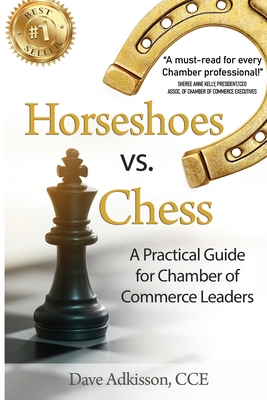 $19.95

Usually Ships in 1-5 Days
Description
---
Change is Accelerating.
Managing a chamber of commerce and providing leadership in a community have never been more challenging. Navigating complexity is certainly more than showing up at a picnic and tossing a horseshoe, hoping to get a ringer. It takes intelligence, strategy, and focus to win prosperity.
In Horseshoes vs. Chess, veteran chamber executive and former mayor Dave Adkisson shares the insights he gained from more than 40 years observing chambers of commerce - as a CEO of three very different chambers (a small city chamber, a metro chamber, and a state chamber), as a two-term mayor of his hometown, as a former assistant to a U.S. Senator, and as a chamber leader on the national level.
Horseshoes vs. Chess offers the lessons Adkisson wishes he had known when he started. He explores four distinct aspects of living in "Chamber World: "
Chamber Leaders' Distinct Personalities and Skill Sets
Chamber Leaders Building Their Chambers to New Heights
Chamber Leaders Helping Shape Their Communities
Chamber Leaders Growing Professionally
With compelling stories of victories as well as disappointments, Adkisson celebrates the incredible opportunity chamber leaders have to help their chambers and communities navigate modern challenges and gain greater prosperity.