The Pocket Adviser: Tax Strategies and Money Making Tips for Rental Property Owners (Paperback)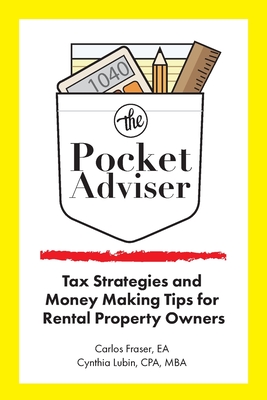 $12.99

Usually Ships in 1-5 Days
Description
---
Have you been thinking of purchasing an investment property? Do you want to take advantage of all the benefits it offers, such as additional cash flow and tax savings? Or, have you recently purchased a property and did not take advantage of all the deductions you thought you would be able to? Are you somewhere in between and not sure what to do because "your best friend's second aunt, by marriage," told you about all the money she lost in a 'money pit' and scared you off? Well, if anyone has ever experienced any of these scenarios, this book is for you.
Carlos Fraser, EA of Taxko Inc., Cynthia Lubin, CPA of C. Lubin, CPA LLC, are known as, The Pocket Advisers. They have decided to take all the questions they've received throughout their several years of tax preparation for aspiring investors and compile their knowledge and expertise in this clear and concise pocket guide. The Pocket Advisers have neatly packaged answers to some of the most pressing questions from investors (novice to professional) and prove some savvy and money-making strategies they would be able to appreciate.
Working their way down Schedule E-Supplemental Income and Loss schedule used for real estate and other passive income activities, Carlos and Cynthia aim to help investors decipher this "mysterious" schedule line by line.
Follow the stories of Michael and Melissa, two investors in very different phases of their real estate investor careers. Learn as they work with experts, Cynthia and Carlos, who aim to maximize their deductions and educate them on the ins and outs of real estate tax for investors. The scenarios are easy to understand and give you all the details you need to make the most of your investor experience. This book will be a handy reference for investors who need quick answers, clear guidance, and decision-making references, all while fitting right in your pocket