Call Me By My True Names: The Collected Poems of Thich Nhat Hanh (Paperback)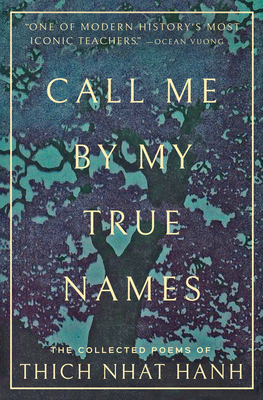 Description
---
"Thich Nhat Hanh's work has proven to be the antidote to our modern pain and sorrows." —Ocean Vuong

The definitive poetry collection by the world renowned Zen master, peace activist, and author of The Miracle of Mindfulness

Though he is best known for his groundbreaking and accessible works on applying mindfulness to everyday life, Thich Nhat Hanh is also a distinguished poet and Nobel Peace Prize nominee. This stunning poetry collection explores these lesser-known facets of Nhat Hanh's life, revealing not only his path to becoming a Zen meditation teacher but his skill as a poet, his achievements as a peace activist, and his experiences as a young refugee.

Through more than fifty poems spanning several decades, Nhat Hanh reveals the stories of his past—from his childhood in war-torn Vietnam to the beginnings of his own spiritual journey—and shares his ideas on how we can come together to create a more peaceful, compassionate world. Uplifting, insightful, and profound, Call Me By My True Names is at once an exquisite work of poetry and a portrait of one of the world's greatest Zen masters and peacemakers.
About the Author
---
Thich Nhat Hanh was a world-renowned spiritual teacher and peace activist. Born in Vietnam in 1926, he became a Zen Buddhist monk at the age of sixteen. Over seven decades of teaching, he published more than 100 books, which have sold more than four million copies in the United States alone. Exiled from Vietnam in 1966 for promoting peace, his teachings on Buddhism as a path to social and political transformation are responsible for bringing the mindfulness movement to Western culture. He established the international Plum Village Community of Engaged Buddhism in France, now the largest Buddhist monastery in Europe and the heart of a growing community of mindfulness practice centers around the world. He passed away in 2022 at the age of 95 at his root temple, Tu Hieu, in Hue, Vietnam.