Lean Six Sigma: A Practical Guide for Getting Started with Lean Six Sigma along with How It Can Be Integrated with Agile and Scrum (Hardcover)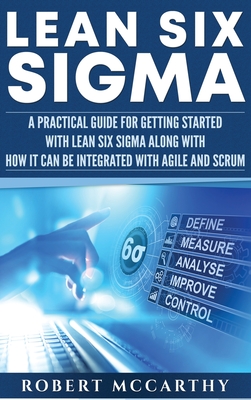 $29.99

Usually Ships in 1-5 Days
Description
---
You've probably always dreamed about managing large projects for awesome companies or organizations. You've most likely dreamed about using a way to manage projects more effectively and more efficiently. The message I want to share with you can help you get closer to your dream.
Maybe you've never managed a project before. Perhaps you've overseen projects previously, but without any success or very little success. I know you want to change things for the better, but the question might be: how?
Creating, keeping, and delivering valuable projects doesn't have to wear you out completely There's a way to handle projects with more flow.
Even if you may have tried various project methodologies and failed in all of them, this can help you gain more insight into what needs to change.
A study done by researchers Raja Sreedharan and Ramasamy Raju showed that Lean Six Sigma is a strategy for success.
Furthermore, a paper by James Womack and Daniel Jones showed that Lean Thinking is the new best way to better processes.
Various Lean wastes are eliminated or reduced to a high degree. Lean Thinking is the antidote to wasteful processes.
So, why wouldn't you take this antidote to get rid of wasteful elements in your operations?
The value that both Lean and Six Sigma create individually is excellent in and of itself, let alone when these are paired together
Having a sound understanding of these methods will set you apart from other project managers.
This book will help you on this journey.
Here are some things you'll learn:
Fundamental principles and concepts that will improve your processes manyfold.
Tools and techniques to better understand your customer.
Methods to identify root causes and solve them.
An overview of the most crucial process in Lean Six Sigma.
The countless benefits of using Lean Six Sigma.
Various examples of the multiple phases you should undertake.
Numerous step-by-step explanations on how to move forward with Lean Six Sigma.
So, what are you waiting for? Grab this book, and let's start our journey