Spanish Short Stories for Beginners: 21 Entertaining Short Stories to Learn Spanish and Develop Your Vocabulary the Fun Way! (Paperback)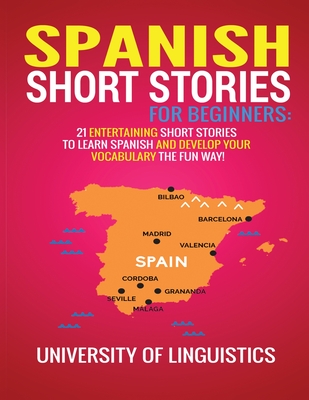 $19.94

Usually Ships in 1-5 Days
Description
---
Has learning Spanish been on your radar for a while?
Is learning Spanish one of those things you wish you could do but simply haven't had the chance?
Is learning a new language a challenge you have been eager to take on but haven't decided on which language to learn?
Is improving your Spanish skills one of those resolutions you still haven't gotten around to following through?
If you have been thinking about any of these questions, then this book is a great option for you. Here, you will find 21 short stories that have been written with beginner Spanish learners in mind.
No previous study or skills are required. All you need is to have a positive attitude and the willingness to dedicate some time out of your busy schedule to the study of Spanish. That is basically all that you will need.
In this book, you will find the following:
★Clear and concise language as would be used by native speakers of Spanish
★Relevant topics that are not only entertaining but also informative
★Real vocabulary that you will be able to put to use right away
★Parts of speech as they are actually used in reading, writing, and conversation
★A short summary in both English and Spanish to help fixate the main idea and specific details of what you have learned in your mind
★Questions about the story to help guide you in your reading comprehension skills
★The answers to the questions so that you won't have to guess the responses to the questions
These features make this book unique in a sea of options for learning Spanish or any other language for that matter. The most important thing is that you will get an easily digestible format that will enable you to pick up Spanish right from the start.
If you have already embarked on learning Spanish in the past, then you will have the opportunity to hone your skills. With these Spanish short stories, you can perfect what you have already learned and then move on to new topics. This will surely expand your current skills.
So, what are you waiting for?
Come on in and find out more about how you can improve your overall Spanish skills. Whether you are a newbie or have some flight hours under your belt before arriving at a Spanish-speaking country, you will find that this book can provide you the practice and experience that you need to improve your Spanish skills.
Now, it's time you finally follow through on those plans you have been thinking about for a while now.
Buy this book now and begin improving and mastering your Spanish skills today
See you inside