Spanish: Learn Spanish for Beginners in a Fun and Easy Way Including Pronunciation, Spanish Grammar, Reading, and Writing, Plus (Hardcover)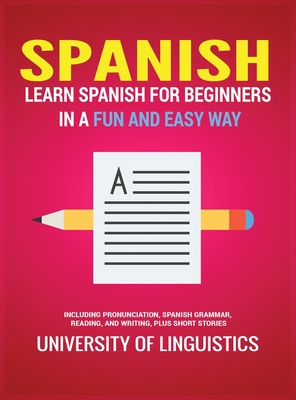 $24.94

Usually Ships in 1-5 Days
Description
---
Have you ever thought about learning another language?
Is this the type of thing that has been on your mind for a while, but you've never found the right opportunity?
Are you serious about learning a new language but simply don't know where to begin?
Is Spanish one of the languages that has caught your eye?
In this book, you will find all of the fundamentals you need in order to get your Spanish skills off the ground. In here, you will find everything you need to get started learning Spanish. If you haven't found the right place to get started, well then look no further.
In this volume, you will find the core fundamentals needed to attain a conversational level of Spanish. In fact, achieving a conversational level of Spanish isn't as hard as you might have thought... all you need are the right keys.
To achieve this, you will learn about:
★Key insights into learning languages
★A full Spanish pronunciation guide
★The basic parts of speech (nouns, adjectives, pronouns and adverbs)
★Verb conjugations in the present tense
★The various ways in which verbs can be conjugated
★Core vocabulary which can be used in multiple situations
★Question formation
★The mechanics of sentence formation
With all of this knowledge, you can then put it to practice with the short stories provided at the end of the book. In these short stories, you will find a great way in which the language you have learned is put into practice in a nice and easy way. So, you won't have to struggle to figure out how, or where to put this newfound language into play. You will have the perfect means to see the language in action just as it is meant to be.
So, what are you waiting for? Buy this book now and get started learning Spanish today