The House on Vesper Sands (Hardcover)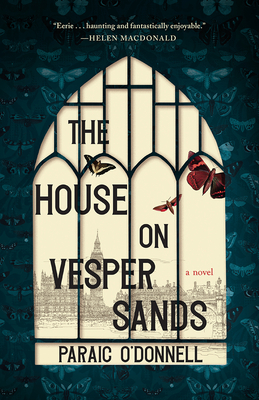 $26.95

Usually Ships in 1-5 Days
Staff Reviews
---
If the cold months of winter have you craving something deliciously dark and suspenseful, you would be hard pressed to find anything more delightful than Paraic O'Donnell's The House on Vesper Sands. Snow and menace are swirling in the air in late 19th century London as a young seamstress plunges to her death, leaving a singularly gruesome clue upon her body. Soon connections are made to a secret society which may be doing unspeakable things to other young women. While O'Donnell's London deftly reminds us of other classics of gothic menace, it is the brilliant cast of characters that truly bring this book to life. The gallant Gideon Bliss, the indomitable Octavia Hillingdon, and the droll Inspector Cutter bring humor to this devilish tale, melding together the best of the Victorian novel and modern insight.
— From
Elaine & Luisa's Picks: Winter 2021
January 2021 Indie Next List
---
"Paraic O'Donnell leavens the dark foreboding of a truly sinister, otherworldly mystery with distinctively clever storytelling and a decidedly marvelous cast of characters. You are in the best of hands with Inspector Cutter and Gideon Bliss on the case, along with the intrepid and resourceful reporter Octavia Hillingdon. Beautifully done!"
— Peter Sherman, Wellesley Books, Wellesley, MA
Description
---
Named an Indie Next Pick, Library Reads Pick, Apple Books' Best Book, Powells's Pick, Amazon Fiction & Literature's "Best of the Month," and one of Oprah Daily's Best Historical Novels of 2021

"Funny, eerie, tender, haunting and unsettling, smokily atmospheric, and fantastically enjoyable." —Helen MacDonald, author of Vesper Flights
London, 1893: high up in a house on a dark, snowy night, a lone seamstress stands by a window. So begins the swirling, serpentine world of Paraic O'Donnell's Victorian-inspired mystery, the story of a city cloaked in shadow, but burning with questions: why does the seamstress jump from the window? Why is a cryptic message stitched into her skin? And how is she connected to a rash of missing girls, all of whom seem to have disappeared under similar circumstances?
On the case is Inspector Cutter, a detective as sharp and committed to his work as he is wryly hilarious. Gideon Bliss, a Cambridge dropout in love with one of the missing girls, stumbles into a role as Cutter's sidekick. And clever young journalist Octavia Hillingdon sees the case as a chance to tell a story that matters—despite her employer's preference that she stick to a women's society column. As Inspector Cutter peels back the mystery layer by layer, he leads them all, at last, to the secrets that lie hidden at the house on Vesper Sands.
By turns smart, surprising, and impossible to put down, The House on Vesper Sands offers a glimpse into the strange undertow of late nineteenth-century London and the secrets we all hold inside us.
About the Author
---
Paraic O'Donnell is the author of The House on Vesper Sands. He lives in Wicklow, Ireland with his wife and two children, and can usually be found in the garden.
Praise For…
---
Ensconced in the rich, Gothic embellishments of Mr. O'Donnell's prose . . . . The House on Vesper Sands performs a . . . kind of enchantment, transforming a chronicle of sordid crimes into an enjoyably eerie ghost story.

— The Wall Street Journal

In this charming jape of a thriller, Inspector Henry Cutter is known around New Scotland Yard for having 'a weakness for certain exotic cases.' In the snowy winter of 1893, he's drawn into a doozy when young employed women around London start to vanish, or—worse, in a way—have their souls stolen by ruthless spiritualists. Preposterous, you say? Not in the hands of O'Donnell, a kind of Oscar Wilde gone tipsy, who drops some Irish whimsy into the harsh reality of Victorian England.
— Richard Lipez, The Washington Post

A thrilling gothic mystery.
— TIME

Practically comes with the mood lighting one would hope for when reading a Victorian-era mystery. Expect pages infused with fog and the clicks of mysterious footsteps...written with modern wit and a Dickensian sense of detail.
— Oprah Daily

That rare mystery that's at once gripping, elegantly written and very funny.
— The Seattle Times

A tour de force that dexterously blends the drama of Dickens, the sensationalism of Wilkie Collins, and the mystery of Conan Doyle, with added chills and humor poured into the mix for good measure. . . . O'Donnell keeps his reader gripped with his fast pace, ingenious plotting and narrative twists and turns. His re-created world of costermongers and eel vendors, gin shops and boardinghouses, gentlemen's clubs and séance salons is vividly authentic. Cutter's punchy dialogue elicits laughs while the soul-stealing and 'half shades' imbue the proceedings with a welcome supernatural streak. A fiendishly entertaining winter's tale.
— The Star Tribune

Vivid atmospherics and frequently comedic dialogue animate this highly polished novel. . . . O'Donnell's rendering of the past is faithful not only to how people ate, spoke and dressed in 1893, but also to how they thought. Many Victorians, living in an era of scientific and technological progress, felt an opposite pull—captivated by the supernatural, by ghost stories, by spooky phenomenon. The House at Vesper Sands summons up that spirit, beckoning it from a long dead world and into our own.

— Clare McHugh, The Washington Post

The House on Vesper Sands manages to do a hundred marvelous things at once: funny, eerie, tender, haunting and unsettling, smokily atmospheric, and fantastically enjoyable.

— Helen MacDonald, author of Vesper Flights

The most vivid and compelling portrait of late Victorian London since The Crimson Petal and the White.

— Sarah Perry, author of Melmoth

Riveting. . . . Positively bursts with inventiveness.
— Benjamin Dreyer, author of Dreyer's English

A dark atmospheric setting with just a hint of murder.
— Book Riot's "Read or Dead" Podcast

Diabolical and delicious, this is the most enjoyable mystery I've read in years.
— Sandra Newman, author of The Heavens

Shivery, suspenseful and altogether delicious, The House on Vesper Sands reads like the classic that Conan Doyle never got around to writing and marks Paraic O'Donnell as a conjuror worth following.

— Louis Bayard, author of The Pale Blue Eye

Stellar. . . . Fans of Sarah Perry (not to mention Dickens and Wilkie Collins) will be captivated by this marvelous feat.
— Publishers Weekly, Starred Review

Truly marvelous. . . . The House on Vesper Sands is poised to be one of the year's breakout novels and confirms O'Donnell as a major talent.

— CrimeReads

Chilling. . . . an atmospheric mystery that casts a keen eye on power imbalances and gender inequality.
— Foreword Reviews

The House on Vesper Sands is not a Sherlock Holmes mystery, but Paraic O'Donnell's sophomore effort is the next best thing. . . . O'Donnell brings his story's humor and darker themes into richly rewarding alignment.

— Shelf Awareness

Dickens is whirling enviously in his grave. . . . Read by a fire on a cold winter evening.
— The Irish Times

By turns smart, surprising and impossible to put down, The House on Vesper Sands offers a glimpse into the strange undertow of late-19th-century London and the secrets we all hold inside us.

— Bookreporter

Explosively compelling. . . . a vividly painted atmosphere that feels so real to the reader, you can almost smell the gin and coal dust.
— BookPage