Denim Mending + Visible Mending for Beginners: 2-in-1 Compendium for Mending Denim, Knitted Fabrics, and Other Materials (Paperback)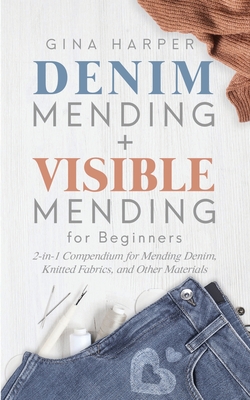 $23.97

Usually Ships in 1-5 Days
Description
---
If you want to save your favorite jeans or sweater from the trash pile, then keep reading...
Have your favorite jeans worn down, and you're afraid that you will have to let them go?
Did you accidentally ruin your favorite sweater, and are desperate not to throw it away?
Are you looking to give your old denim or thrift store find a fresh breath of life?
Are you tired of using the same zig-zag pattern for all mending?
I, the author, present to you the solution to your problems.
Inside this book, I will teach you how to mend denim, knitwear, and other fabrics using classic mending techniques.
Note: This book has 2 manuscripts
Book 1: Denim Mending for Beginners: Patch and Repair your Favorite Denim with Classic Japanese Stitching
Book 2: Visible Mending for Beginners: How to Mend Knitted Fabrics and Other Materials with an Artistic Touch
Inside this book you will discover:
A 9-step patching technique, to help you make the perfect patch and design for your denim
1 jean repair 'pro-tip' that professional jean tailors will never reveal to you
A versatile and robust mending technique that can repair your favorite sweater
How to mend denim easily by hand, even if it is your first time, by using 3 classic Japanese stitching techniques
How to re-enforce the inner thigh of your jeans, with a simple but effective 8-step method
1 secret tool that will make stitching easy, even if it's your first time
The secret to finding and mending thrift store clothing
How to mend your favorite denim (and avoid cutting them into shorts) using the 'sashiko' method
How to patch jeans while keeping the distressed look
How to hem jeans while keeping the original hem
The biggest mistake you could be making when choosing a fabric to patch your denim
1 mending technique that blends both mending and embroidery, giving you the best of both worlds
1 simple but crucial tip that will make patching easier for you
The #1 stitching technique you should use when repairing pillowcases
A mending technique from India, that is considered a 'dying art', and could be lost to the ages within our lifetime (it's also perfect for mending your socks)
This book also comes with 2 free bonuses:
10 handy 'hacks' to avoid small mistakes and snags while mending
10 jean repair 'hacks' that will breathe new life into your worn jeans
Mending is an opportunity to let your creativity flourish.
You can even experiment with clothes that you find at thrift stores, to create some unique and interesting garments
But what if you have never done stitching before?
This book has been designed to be effective for the complete beginner.
Even someone who has never put a thread into a needle can start mending.
Hurry before it is too late and you have to toss your favorite denim or sweater into the trash pile
Note: This book does not have any pictures
Save your favorite clothes now by buying this book now
P.S. Most people regret throwing out their favorite piece of clothing, after realizing that it could have been given a new life with mending. Learn before it's too late.