Self-Discipline, Jealousy, Anger Management: 3 Books in One - Self-Discipline: 32 Small Changes to Life Long Self-Discipline and Productivity, ... Fre (Paperback)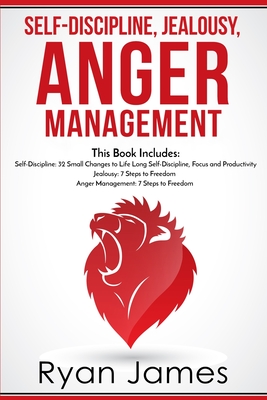 $25.99

Usually Ships in 1-5 Days
Description
---
Self-Discipline, Jealousy and Anger Management: 3 Book Box Set
This book includes:
Self-Discipline: 32 Small Changes to Create a Life Long Habit of Self-Discipline, Laser-Sharp Focus, and Extreme Productivity
Jealousy: 7 Steps to Freedom from Jealousy, Insecurities and Codependency
Anger Management: 7 Steps to Freedom from Anger, Stress and Anxiety
Anger, Jealousy and the lack of Self-Discipline can ruin many different things in life, from your health to your career, to relationships and friendships. It's time to get this problem under control. In this 3 book box set, you will learn:
Part 1 - Self-Discipline
Step-by-step easy-to-follow guides for boosting self-awareness so you can recognize and fight distractions
Little things that you need to stop doing - or thinking - because they damage your productivity and forbearance
Exercises that build inner strength and character
The changes in mind-sets that you need to make in order to reinforce self-discipline
Ways to manage temptation and maintain focus
Techniques and practices that will enable you to stay on track
Part 2 - Jealousy
The meaning of jealousy and the varied myths and misconceptions surrounding this emotion.
The different types of jealousy and how they affect different forms and kinds of relationships
How jealousy affects self-esteem and how both are correlated.
How jealousy can be linked to biological and psychological patterns of survival.
The real reasons as to why you may feel jealous in a relationship.
Studies that were done by fellows of science to prove the difference in jealousy between men and women of different ages.
The trigger that sets the ball rolling in the jealousy park.
Detailed steps on overcoming jealousy.
Stages in dealing with jealousy.
Fun ways of resealing the cracks of a relationship on the rocks.
Part 3 - Anger Management
Why is Anger a Problem for Society: Anger is a natural, healthy emotion, but what are the costs of it running without control? Our society is becoming increasingly angry, and it's harming not just ourselves, but others.
Where Anger Came from: What are the origins of anger? Surely, this prevalent emotion has to have a source. Chapter one will explain this to help you understand where your emotion springs from and how best to handle it.
Different Types of Anger: Not all anger is created equal. There's anger at a situation, anger at another person, and anger at ourselves. Understanding these distinctions can help you find healthy ways to deal with the emotion.
Handling the Emotion: What are some healthy alternatives to burying your anger or exploding? Throughout this guide, you will be given useful tools for handling the emotion in a balanced, assertive way.
By the end of this book, you should have the necessary mental tools for becoming assertive, rather than aggressive, and calm when necessary. You will have developed unbreakable self-discipline for extreme focus, productivity, and full control over your emotions. If you're tired of being controlled by the unpredictable emotions that floods upon you, take matters into your own hands and read this ultimate guide.