The Devil Inside: How My Minister Father Molested Kids In Our Home And Church For Decades And How I Finally Stopped Him (Paperback)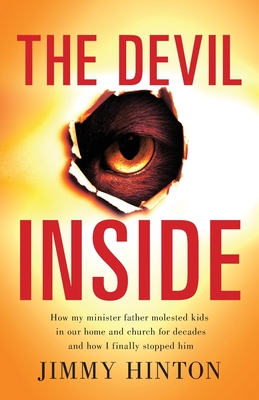 $14.99

Usually Ships in 1-5 Days
Description
---
When Jimmy Hinton's sister confided in him that their own father had sexually abused her, Jimmy was both dismayed and spurred into action. His father, a respected minister in the community, was a predator who used his role behind the pulpit to secretly molest and abuse countless victims. Turning his father over to the police, Jimmy became a tireless advocate and voice for the victims. His pursuit of justice would eventually result in his father's confession and subsequent conviction.
Haunted by the discovery of his father's grotesque acts against children, Jimmy, also a pastor, worked to restore the very church where his dad had perpetrated such sickening acts. He was determined to protect others and nurture an environment of healing in the aftermath of abuse. Today he relentlessly studies and exposes the deception techniques that predators like his father used to molest, harm, abuse, and terrorize children.
The Devil Inside is, hands down, the absolute must-read for every seminarian, seminary instructor, and church leader and volunteer out there...Hinton addresses head-on theological problems of redemption and forgiveness and care for others exactly as Jesus would have him do. He cares deeply for the abused and wounded, makes space for the truly repentant, and offers a chilling description of the wolf in sheep's clothing.
--Christine Fox Paker, MA, MACM, President/Executive Director, PorchSwing Ministries, Inc.
In his book, The Devil Inside, Jimmy pulls no punches. He lays bare his soul and puts in black & white precisely why we should and how we can better defend children from sexual predators.
--Dave Pittman, Executive Director, Together We Heal
Child Safeguarding Trainer, GRACE
I recommend this compelling story of a minister's family forced to make a painful choice - protect their father or protect children from their father?
--Abbie Fitzgerald Schaub, storyteller in "The Keepers" documentary
The Devil Inside serves as a wake-up call for the church and seminaries - understanding abuse, how it happens, and prevention must be an integral thread in the church's fabric...This book is a must for every pastor, ministry leader, and seminary student.
--Joe Harvey-Hall, KeepSAfe Director, The Salvation Army
Jimmy writes about what he knows. And what he writes, you need to know for it may save those you love. Had I had this information years ago, my own family might have been spared the horror that destroyed us. This is a book that needs to be read by church leaders and church members alike
--Les Ferguson Jr., Minister and author of Still Wrestling: Faith Renewed Through Brokenness