After You Vote: A Woman's Guide to Making an Impact, from Town Hall to Capitol Hill (Paperback)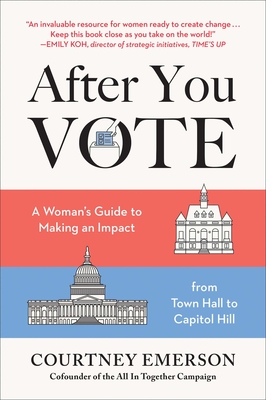 $17.00

Usually Ships in 1-5 Days
Description
---
When the election is over, the work is just beginning. The future of America depends on what you do after you vote.

Today, women in the United States are more educated and politically ambitious than ever before. However, the record numbers of women running for office, casting votes, and marching for change haven't translated into full and equal political participation. Despite significant progress, women are less likely than men to engage in a range of important political activities—from speaking up on the issues they care about to holding their representatives accountable.

Equal parts information and inspiration, After You Vote is both a primer and call-to-action for women of all ages who want to exercise their voices and engage more fully in civic life. It's the ultimate guide to political engagement, filled with practical (and proven) tactics to help women make their voices heard and have an influence on the issues they care about most.

This book will help you:

   • Brush up on civics—federal, state, and local
   • Prioritize your issues
   • Use the most effective advocacy tactics
   • Stick with it for the long haul (politics is a marathon, not a sprint!)


The question isn't if you can create change on behalf of the issues you care about. You can. The question is: What's at stake if you don't?
About the Author
---
Courtney Emerson is the co-founder and former chief operating officer of All In Together (AIT), a non-partisan nonprofit that encourages, educates, and empowers voting-age American women to fully participate in America's civic and political life. As COO of AIT, she led partnerships, training and community-building programs, and designed the civic education curriculum, which has reached tens of thousands of women across the country. Courtney has spoken at conferences and companies around the country, including Facebook, The Wing, Lyft, Oxford University's Power Shift Summit, the Democratic National Committee's Women's Leadership Forum, the YWCA of NYC, and many others. She has written for Refinery29, OZY, HuffPost, The Hill, and New York Daily News. Formerly a vice president at the Center for Talent Innovation, she advised Fortune 500 and global companies on the design and delivery of diversity and inclusion initiatives. Courtney graduated magna cum laude from Princeton University with a degree in politics.
Praise For…
---
"After You Vote is an invaluable resource for women ready to create change. This smart, accessible guide arms you with the knowledge you need to make our political systems work for you—and the tools you need to fight for the causes you care about. Keep this book close as you take on the world!" 

—Emily Koh, director of strategic initiatives, TIME'S UP

"After You Vote is a tremendous, well-timed, and highly accessible resource with proven and practical tools for women who are looking to use their minutes wisely to make the greatest impact, and it couldn't have come at a more critical time: women's political participation is more important now than ever." 

—Erin Loos Cutraro, CEO and founder, She Should Run 

"Courtney Emerson's new book, After You Vote, is a critical call to action empowering all women with the skills and resources to make an impact. Now, more than ever, we need women harnessing their full collective power to build a more inclusive and diverse political landscape."

—Kathy Hochul, 77th Lt. Governor of New York and former Member of Congress 

"I know so many women who want to be more politically active but who hesitate, feeling lost or disillusioned with the current state of things. But, as After You Vote makes clear, the reality is that it's never been more important to get involved and fight for the causes you support. Let this brilliant book help you get started!"

—Giovanna Gray Lockhart, founder, NYWC