Celebrations with Cute Critters of Rumi Rancho: Hooray for Holidays Series: Book Three (Hardcover)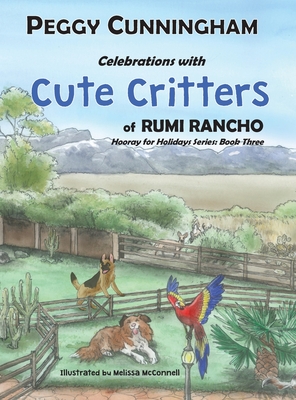 $21.99

Usually Ships in 1-5 Days
Other Books in Series
This is book number 3 in the Hooray for Holidays series.
Description
---
Enjoy three heart-warming holiday stories in one book with adorable animal antics, history tidbits, and Bible principles plus beautiful artwork. And, I'm included.
I'm Mack McBlew. Find hints of me in each story--you'll squint to find me hidden in every
illustration. You've probably noticed that I'm a blue mouse. My story is in Book 4. Yes, four fun books--even the titles are fun
Hooray for Bolivia's Independence Day Happy Birthday, Bolivia
Celebrate Bolivia's Independence Day with Pepe the pesky parrot's story. Pepe's unexpected journey starts with a bump on his head in the jungles of Bolivia and ends in the Andes Mountains where he finds a new home and family. It's there Pepe discovers it's better to be helpful than pesky. Then, Pepe even agrees to say a few words at a school program on August 6, Bolivia's birthday.
Hooray for Labor Day My Labor Day Question: Can I Fix Cars in Heaven?
Enjoy a picnic on Labor Day with Wally the Watchdog and his friend Heidi, the beautiful German Shepherd. Wally guards his house, and Heidi helps her dad fix cars--she carries tools to him. But on Labor Day, they are having fun and resting from their work. Wally asks Heidi, "Do you think there will be cars in heaven? Maybe I could drive in heaven. I can dream, can't I?"
Hooray for Columbus Day Cali the Cat Discovers a Bible Clue and a Forever Family
Columbus Day remembers a dangerous journey of an adventurous man called Christopher Columbus. He set sail from Spain to find Asia, but his journey ended by getting lost. Cali, the cat, got lost too when she set out and wandered far from her barn. But both Christopher Columbus and Cali found something better than they could have imagined after getting lost. Columbus discovers the Americas. And, Cali finds Rumi Rancho.