Making Grades Matter: Standards-Based Grading in a Secondary Plc at Work(r)(a Practical Guide for Plcs and Standards-Based Grading at the Se (Paperback)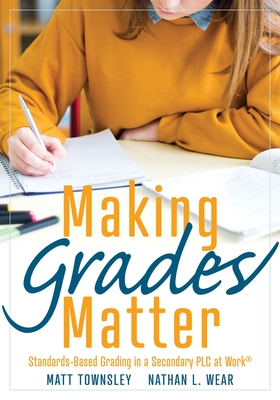 $36.95

Usually Ships in 1-5 Days
Description
---
Maximize learning by making grades more meaningful and motivating to students. With the support of this practical guide, professional learning communities (PLCs) will discover a clear road map for implementing a standards-based grading system at the secondary level. The authors provide all of the actionable ideas and tools needed to not only transition to this improved system but to achieve the greatest possible success with it.
Use this resource to help students feel engaged with their learning and increase their classroom performance:
Study the foundational theories behind the standards-based grading system and how it interacts with and is supported by the PLC process.
Learn how to use grades to effectively communicate students' mastery of learning standards.
See what makes ungraded homework and independent practice a better tool to improve learning and enhance students' motivation to study.
Understand the value of allowing students multiple opportunities to demonstrate their learning when taking assessments.
Gain valuable insights for administrators and leaders into the multiyear journey of implementing standards-based grading.
Contents:
Introduction
Chapter 1: Standards-Based Grading in a Professional Learning Community
Chapter 2: How Grades Communicate Current Levels of Learning
Chapter 3: How Homework Serves as Ungraded Practice
Chapter 4: How to Provide Students With Multiple Opportunities to Demonstrate Their Learning
Chapter 5: Criteria for Administrators and Leaders Implementing Standards-Based Grading
Conclusion
Appendix