It Will Never Happen to Me: Growing Up with Addiction as Youngsters, Adolescents, and Adults (Paperback)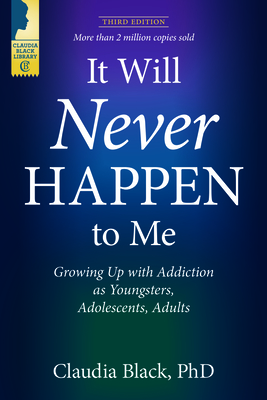 $17.95

Usually Ships in 1-5 Days
Description
---
Claudia Black's bestselling classic on the experience and legacy of being raised in an addictive household.
In an all too familiar scenario, played out in millions of homes every day, children who grow up in addictive families abide by certain rules: don't talk, don't trust, don't feel. The rigid survival roles and youthful coping behaviors they take on, such as the responsible child, the adjuster, the placater, and the acting-out child can eventually contribute to problems of depression, loneliness, and addiction in adulthood.
Using poignant personal stories, thoughtful explanations, and helpful exercises, Black helps readers gain personal insights and develop new skills that lead to a healthier, happier, more fulfilling life.
While continuing to recognize alcohol as the primary addiction within families, this newly revised edition of It Will Never Happen to Me, which has sold more than two million copies, broadens concepts to include addictive disorders involving other drugs, money, food, sex, and work.
About the Author
---
Claudia Black, PhD is a world-renowned expert on addiction and codependency, bestselling author, and trainer internationally recognized for her pioneering and contemporary work with family systems and addictive disorders. Since the 1970s, Dr. Black's work has encompassed the impact of addiction on young and adult children. Her writings and teachings have become a standard in the field of addiction. She is the Clinical Architect of the Claudia Black Center for Young Adults and a Senior Fellow at The Meadows Treatment Center in Arizona. She is one of the original founders and serves on the advisory board for the National Association of Children of Addiction, and the advisory council of the Eluna Foundation and its development of Camp Mariposa, a camp for children impacted by addiction.