The Fruit: A Novel of the Wrath & Athenaeum (Paperback)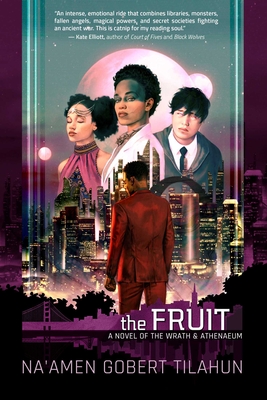 Description
---
Following The Root and The Tree, the Final Novel in the Wrath & Athenaeum, a Compelling Urban Fantasy Set in a San Francisco Merged with a Dimension Filled with Gods and Magic

The ravenous darkness threatening the twin worlds of Earth and Corpiliu is trapped . . . for now. But the alliance of two societies is fragile: new species clash with existing ones, monster-like Antes enslave humans, and humans hunt the "invaders" down.

Meanwhile, young warrior Erik has left everything behind to wander the world keeping order, haunted by visions of his lost love. But is it a trick like before—or the real thing? And even as word of Erik's deeds begins to spread, his own father, now fallen to the darkness, is spreading hatred and gathering legions.

Elsewhere, seer Tae and dream-visionary Melinda must learn how to defeat the forces arrayed against them, but they'll need the help of gods driven beyond morality and sanity. And as Lil adapts to her new world, her magical powers grow beyond her control and threaten everything she's working for.

When all of these powers collide, the world will break. And the one created afterward may not be what anyone expected. . . .
About the Author
---
Na'amen Gobert Tilahun is a bookseller and freelance writer who split his early years between Los Angeles and San Francisco. His fiction, poetry, and critical writing are published across the web, and he is the cocreator and cohost of the geek podcast, The Adventures of Yellow Peril + Magical Negro. The Tree is the second book in his Wrath & Athenaeum trilogy.
Praise For…
---
Praise for The Root

"Tilahun creates a fantasy world you'll want to get lost in, and fills it with fascinating, diverse characters. This is a whole new exciting kind of portal fantasy."—Charlie Jane Anders, author of All the Birds in the Sky

"An intense, emotional ride that combines libraries, monsters, fallen angels, magical powers, and secret societies fighting an ancient war. This is catnip for my reading soul."—Kate Elliott, author of Cold Magic and Black Wolves

Praise for The Root

"Tilahun creates a fantasy world you'll want to get lost in, and fills it with fascinating, diverse characters. This is a whole new exciting kind of portal fantasy."—Charlie Jane Anders, author of All the Birds in the Sky

"An intense, emotional ride that combines libraries, monsters, fallen angels, magical powers, and secret societies fighting an ancient war. This is catnip for my reading soul."—Kate Elliott, author of Cold Magic and Black Wolves