Wife with Knife (Paperback)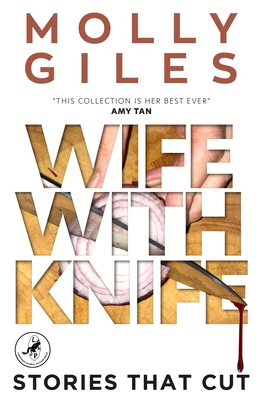 Description
---
"This collection is her best ever." AMY TAN
Wife with Knife is a collection of quick and quirky short stories, that are an utter delight and winner of the Leapfrog Global Fiction Prize 2020

"Molly Giles' stories have always been among my favorites since I first read her work thirty-seven years ago. This collection is her best ever. What an irreverent, original voice I found myself gasping in shock and laughter, feeling at the end of each tale that I had garnered strange wisdom on the human heart and its unerring sense for finding trouble."--
Amy Tan
, author of
The Joy Luck Club
The speakers in Molly Giles's
Wife With Knife
offer their truths with surprising starkness: " T]he actual heart looks more like a tongue than a valentine" states the grief-flayed aunt of "Agate Beach," while the careless driver of "Accident" thinks "If I rear-ended anyone in California, I might be sued or shot but I would not be prayed upon." Many of the stories are not traditional narratives but glimpses of the trouble or healing that lies ahead: teens refusing to heed traffic, lovers staring down death and betrayal and closure. Like a street magician's trick,
Wife With Knife
holds out each everyday tragedy or quiet triumph only to replace it seamlessly with another.
About the Author
---
MOLLY GILES is the award-winning author of six story collections and one novel. Most recently. Rough Translations won The Flannery O'Connor Prize, the Boston Globe Award, and The Bay Area Book Reviewers' Award; Creek Walk won The Small Press Best Fiction Award, the California Commonwealth Silver Medal for Fiction, and was a New York Times Notable Book; Bothered won the Split Oak Press Flash Fiction Award; and All The Wrong Places won the Spokane Prize for Fiction. Her work has also earned The O. Henry Award and the Pushcart Prize, and she has received grants from the National Endowment for the Arts, the Marin Arts Council, and the Arkansas Arts Council.