Trivial Pursuit Ultimate Puzzle Book: Trivia-based word searches, jumbles, crosswords and more! (Ultimate Puzzle Books) (Paperback)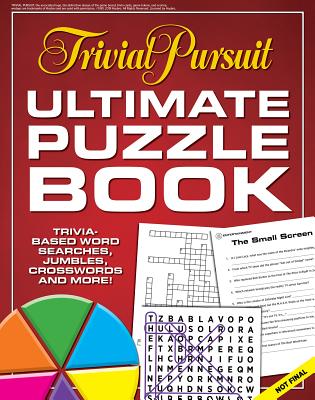 $14.99
Email or call for price
Description
---
GIVE YOUR BRAIN A WORKOUT - AND A BOOST!

- More than 160 puzzles based on more than 1500 official Trivial Pursuit questions
- Includes word searches, crossword puzzles and jumbles plus bonus trivia questions
- Covers all of the classic categories: Entertainment, History, Arts & Literature, Geography, Science & Nature, Sports & Leisure
- The Mayo Clinic reports that engaging in "brain games" reduces the risk of cognitive impairment that comes with age by 22%

Test your knowledge and exercise your brain in a whole new way! This fun, fascinating book is jam-packed with more than 160 challenging puzzles, certain to get your noggin working overtime - the perfect resource for keeping your brain engaged, energized and young.

Each puzzle is designed so that trivia is the basis for each answer. So, for example, instead of providing a list of words for a word search, this book provides a list of trivia questions, with the answers hidden within the puzzle. Similarly, each puzzle is categorized by theme, as in the classic Trivial Pursuit game, which covered geography, entertainment, history, arts & literature, science & nature, and sports & leisure.

Bonus trivia questions are spotlighted throughout for added fun! It's a ton of brain-teasing fun that turns classic tabletop trivia into "do anywhere" pencil-puzzle entertainment.
About the Author
---
The Editors of Media Lab Books publish branded books that cross a wide variety of categories and topics including games, puzzles, general interest, biographies, and many others. Our branded partners include Disney, Hasbro, Newsweek, John Wayne Enterprises, Bruce Lee, Smithsonian and many others.