True To Form: A Heartfelt Collection From Beto O'Rourke's U.S. Senate Campaign (Hardcover)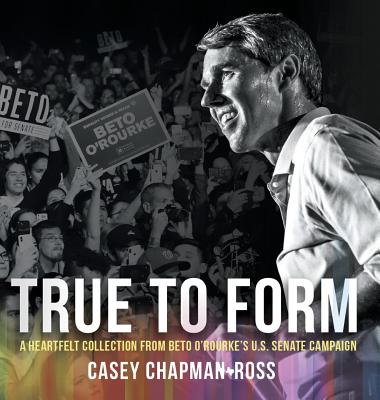 $49.99

Usually Ships in 1-5 Days
Description
---
It all began when I met Beto O'Rourke, Jody Casey (Campaign Manager), and his team in Austin during Beto's first road trip while "town halling" across Texas in August 2017. I began documenting as much of the campaign as I could and along the way met so many amazing fellow artists and volunteers, whose stories have forever changed my life. By including the collective experiences of other photographers, artists, designers and volunteers, I have gained a much greater understanding of why Beto's campaign was different.
Beto and his staff's focus on shared valuing, listening, respecting, and empowering came through in every single interaction. It was a game-changing campaign that spread like wildfire. The campaign became a palpably heartfelt pursuit by everyone involved. I will carry these lessons and stories with me from here forward and apply them in any way I can to my life and campaign experiences.
Although Beto didn't carry the day in this Senate race, he carried the year with his message of change and optimism from his spot at the top of the ballot. Once again Texas is a two-party state, up and down the ballot, and Texas is ground zero in the 2020 election with Beto positioned as a key player at the national level.
Although only a fragment of what was an eff ort by millions of Texans, I hope my contribution here is a way of honoring and giving back to the tireless campaign staff, volunteers, artists, designers, and photographers I now call friends. And to those who haven't met Beto yet, it is my privilege to introduce him in these pages.