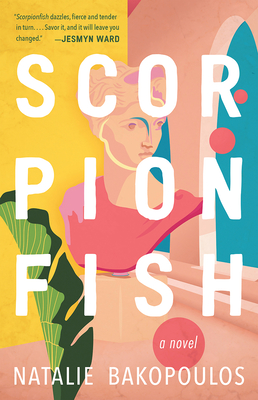 Description
---
A captivating and transporting travel novel, Scorpionfish reveals how what we leave behind may be exactly what we've been looking for all along.
After the unexpected deaths of her parents, academic Mira returns to her childhood home in Athens. On her first night back, she encounters a new neighbor, a longtime ship captain who has found himself, for the first time in years, no longer at sea. As one summer night tumbles into another, Mira and the Captain's voices drift across the balconies of their apartments, disclosing details and stories: of careers, of families, of love.
For Mira, love has so often meant Aris, an ex-boyfriend and rising Greek politician who has recently become engaged to a movie star. There is, too, her love for her dear friend Nefeli—a well-known artist who came of age during the military dictatorship—as well as Dimitra and Fady, a couple caring for a young refugee boy. Undergirding each relationship is the love that these characters have for Athens, a beautiful but complicated city that is equal parts lushness and sharp edges.
Scorpionfish is a map of how and where we find our true selves: in the pull of the sea; the sway of late-night bar music; the risk and promise of art; and in the sparkling, electric, summertime charge of endless possibility. Award-winning author Natalie Bakopoulos braids a story of vulnerability, desire, and bittersweet truth, unraveling old ways of living and, in the end, creating something new.
About the Author
---
Natalie Bakopoulos is the author of The Green Shore (Simon & Schuster, 2012), and her work has appeared in Tin House, the Iowa Review, the New York Times, Granta, Ploughshares, and The Pen/O. Henry Prize Stories. She's an assistant professor of creative writing at Wayne State University in Detroit and a faculty member of the summer program Writing Workshops in Greece. She lives in Ann Arbor, Michigan.
Praise For…
---
Filled with nostalgia and a simmering grace.
— The Daily Beast

Natalie Bakopoulos shines at capturing friendships between men and women—and this quiet novel speaks loudly about the power of friendship, art and place to help us shape who we are despite wounds from our pasts.
— NPR

Bakopoulos expertly weaves a narrative about the ways in which our identity is intimately tethered with those of the people around us, and the places from where we all come. Her language is lucid and precise, yet still easy to lose yourself in—it's only when you finish that you realize how much of Mira's story now feels lost inside you, embedded, like it's been written on your skin.
— Refinery29

A novel where you can practically taste summer on its pages. . . . a magnetic story.
— Alma

Scorpionfish is an ideal summer companion with its complicated heat.
— Adroit Journal

Returning to Athens in the wake of her parents' deaths, Mira connects with the Captain—a local seaman whose work has recently granted him some time on land. As the two share their stories, author Natalie Bakopoulos crafts a portrait of love and evolution out of the emergent narratives.
— Bustle

Scorpionfish is a stunning, beautifully bittersweet novel.

— HelloGiggles

Skillfully captures the characters' sense of feeling stuck between stations. This riff on the adage that you can never go home poses essential questions on what it means to belong.
— Publishers Weekly

Richly told. . . . A remarkable recognition of how language can work, how grief and love and loss can be so particular, so meaningful, so universal—and how words can make those resonances propulsive and haunting.
— BookPage, Starred Review

Scorpionfish is a riveting, elegant novel keenly observed in the manner of Elena Ferrante and Rachel Cusk. A divine, chiseled stunner.

— Claire Vaye Watkins, author of Gold Fame Citrus

What a gorgeous weave this novel is.
— Stacey D'Erasmo, author of Wonderland

Deeply affecting.
— Peter Ho Davies, author of The Fortunes

Scorpionfish is transporting, a finely tuned story about art and friendship and the weight of history. Against the backdrop of the Greek economic crisis, Natalie Bakopoulos depicts Athens and island life with grace and accuracy, telling a story of return at once deeply personal and universal. A moving novel with an unexpected undertow.

— Cara Hoffman, author of Running

Scorpionfish dazzles, fierce and tender in turn. . . . Savor it, and it will leave you changed.

— Jesmyn Ward, author of Sing, Unburied, Sing

Haunting and precise. I loved it.
— Courtney Maum, author of Costalegre

Bakopoulos deftly conveys the experience of returning to a beloved place, the experience of re-seeing.
— Cleaver Magazine