The Book on Estimating Rehab Costs: The Investor's Guide to Defining Your Renovation Plan, Building Your Budget, and Knowing Exactly How Much It All C (Paperback)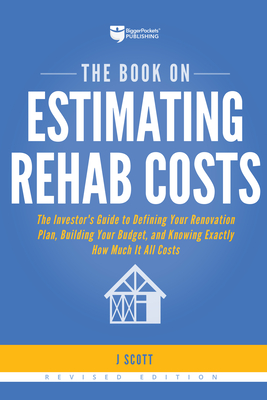 $24.99

Usually Ships in 1-5 Days
Description
---
How much does it really cost to flip a house? In this new second edition, get all the updated costs, upgrade details, and associated values when it comes to estimating your next renovation
Determine how to accurately estimate all the costs you are likely to face during renovation--and get all of your rehab questions answered in a single place In The Book on Estimating Rehab Costs, expert real estate investor and fix-and-flipper J Scott reveals the tried-and-tested steps of his professional framework and his methodology for precisely evaluating renovation costs from hundreds of his own successful rehab projects. Learn every detailed tip, trick, and tactic you need to accurately budget any house flipping project or investment property renovation.
You don't need to be a contractor to flip houses, but you do need to know the fundamentals of budgeting and pricing your renovation--including everything from cosmetic renovations to complex installations and upgrades. Whether you are preparing to walk through your very first rehab project or you're an experienced home flipper, this handbook will be your guide to identifying renovation projects, creating a scope of work, and staying on budget to ensure a timely profit
Inside, you will learn how to:
Inspect every aspect of a property to create your renovation scope Decide which upgrade options provide the biggest bang for your buck Identify the 150+ most common renovations you'll likely encounter Recognize big problems (like mold and termites ) and quickly fix them Assign accurate prices to every rehab task to build a detailed budget Determine which contractors are best for certain repairs or projects Break down the top 25 basic components of a renovation And so much more
About the Author
---
J Scott spent much of his early career in Silicon Valley, where he held management positions at several Fortune 500 companies, including Microsoft and eBay. In 2008, J and his wife Carol decided to quit their corporate jobs, move back East, start a family, and focus on real estate investing. In the past ten years, they have bought, built, rehabbed, sold, lent-on and held over $60M in property all around the country. J is also the co-host of The BiggerPockets Business Podcast and the author of four books on real estate investing, which have sold over 200,000 copies and have helped investors from around the world get started with real estate. J and his family currently live in Sarasota, FL.