America's Racial Karma: An Invitation to Heal (Paperback)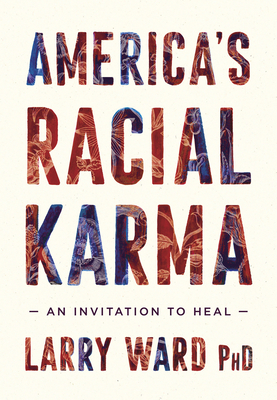 Description
---
Immediate, illuminating, and hopeful: this is the key set of talks given by leading Zen Buddhist teacher Larry Ward, PhD, on breaking America's cycle of racial trauma.

"I am a drop in the ocean, but I'm also the ocean. I'm a drop in America, but I'm also America. Every pain, every confusion, every good and every bad and ugly of America is in me. And as I transform myself and heal and take care of myself, I'm very conscious that I'm healing and transforming and taking care of America. I say this for American cynics, but this is also true globally. It's for real." So says Zen Buddhist teacher Dr. Larry Ward.

Shot at by the police as an 11-year-old child for playing baseball in the wrong spot, as an adult, Larry Ward experienced the trauma of having his home firebombed by racists. At Plum Village Monastery in France, the home in exile of his teacher, Vietnamese peace activist and Zen teacher Thich Nhat Hanh, Dr. Ward found a way to heal. In these short reflective essays, he offers his insights on the effects of racial constructs and answers the question: how do we free ourselves from our repeated cycles of anger, denial, bitterness, pain, fear, violence? Larry Ward looks at the causes and conditions that have led us to our current state and finds, hidden in the crisis, a profound opportunity to reinvent what it means to be a human being. This is an invitation to transform America's racial karma.
About the Author
---
Dr. Larry Ward (pronouns he/him) is the author of the book America's Racial Karma: An Invitation to Heal, and coauthor with his wife Dr. Peggy Rowe-Ward of Love's Garden: A Guide To Mindful Relationships. Dr. Ward brings twenty-five years of international experience in organizational change and local community renewal to his work as director of the Lotus Institute and as an advisor to the Executive Mind Leadership Institute at the Drucker School of Management. He holds a PhD in religious studies with an emphasis on Buddhism and the neuroscience of meditation. Ordained by Ven. Thich Nhat Hanh in the Plum Village tradition of Engaged Buddhism with the Dharma name True Great Sound, Dr. Ward is a knowledgeable, charismatic, and inspirational teacher, offering insights with personal stories and resounding clarity that express his Dharma name.
Praise For…
---
"In this taut, fearless, and well-argued manifesto, Larry Ward offers us a deeply insightful analysis of America's racial karma—of how it operates individually and collectively—and how it can be worked with and transformed. Drawing on Buddhist psychology, trauma theory, neuroscience, and years of practice … the result is a searing, liberative, and tender work—a book that is both urgent and necessary." —Jan Willis, author of Dharma Matters: Women, Race, and Tantra

"America's Racial Karma rehydrates our weary bodies for the monumental journey ahead: redefining what it means to be human. Welcome medicine for today's generation of decolonial, spirit-led seekers and activists." — Katie Loncke, codirector of the Buddhist Peace Fellowship

"Larry Ward brings to bear his decades of experience as a spiritual guide to instruct us on locating the seeds of racialization within us all, confronting those seeds, and pressing forward in the realization of Beloved Community. Brimming with wisdom, Ward engages the reader directly, showing us how to recognize the other in ourselves and huild a society of belonging." —john a. powell, director of the Othering and Belonging Institute and author of Racing to Justice: Transforming Our Concepts of Self and Other to Build an Inclusive Society

"America's Racial Karma doesn't just add to the essential conversation around race, racialization, and discrimination, but rather redefines the very conversation itself from the inside out. A book to treasure and to read many times over." —Brother Phap Hai, senior Dharma teacher in the lineage of Zen Master Thich Nhat Hanh and author of Nothing to It

"Having sat with this teacher at Deer Park Monastery, I know his teachings, first-hand, to have come from his humble, dedicated, devoted, long and steady practice. His teachings are wise, clear, heartfelt, and based on his own authentic transformative experience of being a Black man and one who also holds a high and honored Dharma seat in Zen Master Thich Nhat Hanh's lineage. This jewel of a book is sure to be a classic among those who are serious about awakening." —Zenju Earthlyn Manuel, author of The Deepest Peace

"Rich in practice in the Plum Village Buddhist tradition, poetry, and history, America's Racial Karma is a must-read book to understand the individual and collective legacy of our racial karma and to walk the long path toward reconciliation and awakening." —Valerie Brown, coauthor of The Mindful School Leader

"Accessible to those experienced in meditation practices and beginners alike, Larry Ward offers us a way to bring clear intention and compassionate action to our path of racial healing with concrete practices to help us come back again and again to healing ever-deeper layers of our embodied, psychological racial traumas.  America's Racial Karma is a refuge for today and future generations." —Marisela B. Gomez, MD/PhD, author of Race, Class, Power, and Organizing in East Baltimore

"Buddhism is syncretic and malleable and has always mingled with whatever culture it has landed within, whether in Tibet, Japan, or China. So why not in America? More importantly for us, Larry Ward is able to relate Buddhism to the experience of people of color in America. We need this." —Rajeev Balasubramanyam, author of Professor Chandra Follows His Bliss