50 Things Kate Bush Taught Me about the Multiverse (Paperback)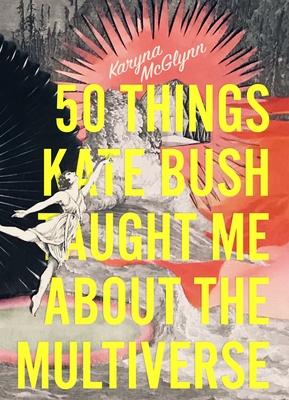 Description
---
"These are poems with teeth and tenderness and so much knowledge. You'd overlook their sharp, glinting beauty at your peril."
--Kathryn Nuernberger, author of
The Witch of Eye
and
RUE
This is a book of tragicomic gurlesque word-witchery inspired by the Kate Bush cosmos. Campily glamorous, darkly funny, obsessively ekphrastic, boozily baroque, psychedelically girly & musically ecstatic, 50 Things Kate Bush Taught Me About the Multiverse dazzles as Karyna McGlynn's third collection.
About the Author
---
Karyna McGlynn is a writer, professor & collagist living in Memphis. She is the author of I Have to Go Back to 1994 and Kill a Girl (Sarabande 2009) and Hothouse (Sarabande 2017), which was a New York Times Editor's Choice. Karyna holds an MFA in Poetry from the University of Michigan, and a PhD in Creative Writing & English Literature from the University of Houston. Recent honors include the Diane Middlebrook Poetry Fellowship at the University of Wisconsin, a visiting professorship at Oberlin College, the Rumi Prize for Poetry selected by Cate Marvin, and the Florida Review Editors' Award in Fiction. With Erika Jo Brown, she's co-editing the anthology Clever Girl: Witty Poetry by Women.