The Customer Communication Formula: How to communicate with your customers and boost your customer service brand (Hardcover)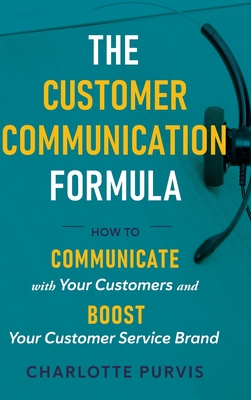 $22.99

Usually Ships in 1-5 Days
Description
---
A Tried, True, and Tested Formula to Increase Customer Satisfaction and Boost Your Brand
One conversation with a client changed everything for the author, Charlotte Purvis:
"We do not want the people answering the phones to sound like they are just sitting around at home talking to their family and friends."
That statement was the catalyst for Charlotte Purvis to develop the 3-F Customer Communication Formula.
Friendly + Formal + Focused = Customer Service Success
This Formula helped her clients create an environment where Customer Service Professionals (CSPs) spoke in a manner that customers would know they were contacting a Best-in-Class Contact Center, instead of someone sitting at home chatting on the phone with their family and friends.
That conversation with the client was over 20 years ago, and since then Charlotte Purvis has coached and trained hundreds of Customer Service Professionals using her 3-F Customer Service Formula. As a result, literally millions of customers have benefited from the service they've received based on this formula.
"Customer Service Professionals" include advisors, agents, consultants, assistants, specialists, representatives, coordinators, sales enrollment specialists, and basically anyone who communicates with customers.
In a world that is becoming increasingly more competitive, when anyone can start a business with a website and a product idea, and when more customers are buying online than ever before, outstanding customer service will set you apart from your competition. There is no question that investing in improving your customer service will pay dividends in the long term.
This book is for Customer Service Professionals, Corporate Leaders, Small Business Owners, Faith Community Leaders, Managers, Supervisors, Trainers, Coaches, Subject Matter Experts, Government Agencies, Non-profit Organizations, and anyone interested in customer communication and customer service success.
This book is really two books in one. Part 1 is for Customer Service Professionals (CSPs) and part 2 is for Customer Service Leaders. Lots of CSPs move on to roles of additional leadership and this book prepares them for that next level.
If you're ready to start looking at the world through the eyes of your customers and take your business to the next level by delivering the best-in-class customer service, then click the BUY NOW button and let's take this journey together.