The Customer Communication Formula: How to communicate with your customers and boost your customer service brand (Paperback)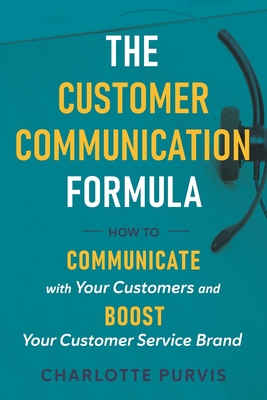 for information about purchasing this book, please contact orders@bookpassage.com
Description
---
The Customer Communication Formula
Discover the formula for your best-in-class customer service center.
Forbes estimates that businesses lose $75 billion a year due to poor customer service. How much is your business contributing to that amount?
How you communicate with customers is a key component of your customer service and the overall customer experience. Author and customer communication expert Charlotte Purvis has spent over 20 years helping clients improve their customer communication across channels. Now she is sharing her formula for success in this easy-to-follow, conversational guidebook.
Charlotte Purvis will show you how to create great customer experiences, improve your internal and external communication, and boost your customer service brand. You will discover how to:
Stay one step ahead anticipating and delighting customers
Provide EXTREME customer service during a crisis
Speak the language of customer service and manage challenging situations
Analyze your company's customer service practices with 12 questions
Customize your company's approach to customer service
Assure the quality of your Quality Assurance - with advice from Jeffrey Newman, the Manager of Customer Care for Porsche Cars North America
Packed with examples of customer conversations, scripts, and training tips, this helpful book will quickly have you exceeding your customer service goals. Whether you're a Customer Service professional or a manager - or looking for a step up in your career - you'll find The Customer Communication Formula to be a trusted guide to creating your own best-in-class customer experience.
Visit CharlottePurvis.com for more information