Student Ambassador: The Missing Dragon (Paperback)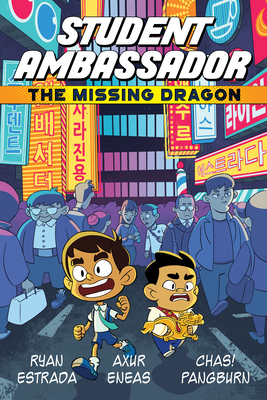 $15.00

Usually Ships in 1-5 Days
Description
---
Madcap antics and adventures. -- KIRKUS
A fun adventure tale with a lot of personality. -- SCHOOL LIBRARY JOURNAL
"I want to tell you a story about being a student ambassador, but that will be boring. So instead, I'll tell you about the time I almost got eaten by a crocodile."
When eight-year-old student ambassador Joseph Bazan wins a photo op with the President of the United States, he doesn't quite know what to expect, but it certainly isn't hanging out with the leader of the free world in a secret compartment inside the resolute desk Joseph's pluck and kid logic not only charm the president, but they soon help resolve a thorny trade dispute. This gives POTUS an idea. Across the ocean, eight-year-old boy king Nang Nukatau III has taken his father's crown and clumsily stumbled into an international incident, and now Joseph's got a pressing mission: talk the tiny dictator back from the brink of war
The diplomatic slumber party soon goes from awkward to scary as the castle is stormed and the boys are lost across South Korea and Japan where they have to outrun bad guys, learn to read Hangul, unravel the riddle of Gyeongbok Palace, break out of an abandoned bathhouse, befriend an army of snow monkeys, and crack the Case of the Missing Dragon, all while showing Nang how to live in a world where everyone doesn't always bow to you. Can a kid with a C+ in social studies solve the mystery and teach a king to be a kid?
Student Ambassador is a globe-trotting action-adventure set in the real world where dangers mount, the stakes are high, and smarts save the day
About the Author
---
Ryan Estrada is an artist/adventurer who has traveled the globe and currently resides in South Korea. He mostly writes and draws webcomics, but he also writes prose. He is the author of BANNED BOOK CLUB (with Kim Hyun Sook), POORCRAFT: WISH YOU WERE HERE, Learn to Read Korean in 15 Minutes, Ryan Made Mistakes, Broken Telephone, Aki Alliance, and many other comics. Axur Eneas won Mexico's National Young Graphic Novelist Award in 2017 for his books Este Comic no es Arte and Dibuja una Casa. He has been a colorist for Sonic the Hedgehog (Penguin), a designer for the animated feature Top Cat Begins, and an illustrator for the series Amalteado.