Better Sleep for the Overachiever (Paperback)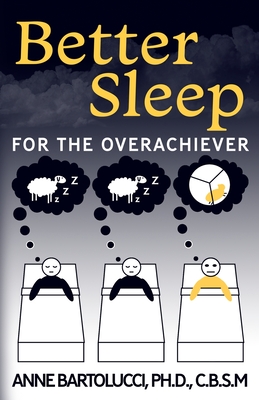 $12.99

Usually Ships in 1-5 Days
Description
---
Does your inner drive keep you up all night? Discover methods to ease your ambitious mind into a healthy, highly productive pattern of sleep.
Do you toss and turn worrying about tomorrow's to-do list? Does your body crave rest but your brain won't shut down? Have you tried all the recommended bedtime tricks and found no relief? Insomnia specialist and clinical psychologist Anne D. Bartolucci, Ph.D. has spent more than a decade helping results-driven people catch some z's. Now this fellow overachiever is here to show you a simple way to get the restorative repose you need to fuel your busy lifestyle.
Better Sleep for the Overachiever is a thorough guide to creating a lifelong habit of healthy, rejuvenating slumber patterns to help you perform at your peak. Drawing on Bartolucci's extensive experience, you'll discover why insomnia isn't just a nighttime problem-it's deeply intertwined with your daily thoughts and activities. Using simple strategies to identify and defuse stressful behaviors, you'll soon be drifting off to dreamland
In Better Sleep for the Overachiever, you'll discover:
Step-by-step tips and best practices to wind down in the evening
Why perfectionism and imposter syndrome stifle quality sleep and how to overcome them
The time management skills needed to let go and allow your mind to settle
An exploration of the role that mindfulness plays in managing racing thoughts
Real-life case studies, conversations from Bartolucci's practice, and much, much more
Better Sleep for the Overachiever is an easily accessible handbook to help you snooze like a pro. If you like expert advice, practical techniques, and proven research, then you'll love Anne D. Bartolucci's life-changing resource.
Preorder Better Sleep for the Overachiever to get the rest you deserve tonight