Beautifully Organized: A Guide to Function and Style in Your Home (Hardcover)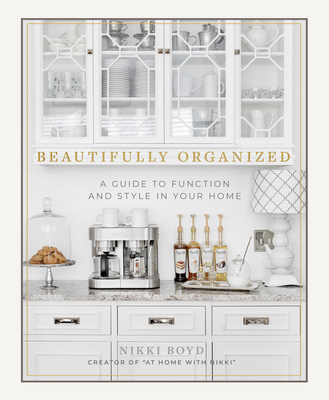 $22.95

Usually Ships in 1-5 Days
Description
---
As featured in Real Simple magazine!
YouTube Star Nikki Boyd shares her best advice for how to design a beautiful, welcoming, and well-organized home. Nikki developed and honed her five essential steps to an organized home through her experience working as a professional organizer. Now in this book, she shows you how to transform your space and enhance your life at home.

   • Assess, Declutter, Clean, Organize, and Beautify: Learn the5 simple steps to transform every room in your home and create a welcoming atmosphere for family and friends 
  • Interior Design Inspiration: Gorgeous, inspirational home photos on every page 
  • Beautiful coffee table and home decor book: Ranked best coffee table book by Stylecaster! 
With her keen eye for detail and trademark warmth, Nikki guides readers through her signature steps, teaching how to graciously share your homes with family and friends to create treasured shared experiences and memories.
Beautifully Organized
is so much more than a home organization book—it's a recipe for a beautiful, fulfilling life.
"Professional organizer Nikki Boyd has a gift of transforming a space into a captivating work of art. She sprinkles a little bit of glam and a whole lot of functionality into every space she touches."

-Toni Hammersley, A Bowl Full of Lemons, Author of The Complete Book of Home Organization
About the Author
---
Nikki Boyd is a wife and mother of three amazing kids who have all grown into beautiful adults. A long-time military spouse, her husband's career in the Air Force meant that their family traveled extensively. The experience of moving and setting up house many times over gave Nikki the opportunity to hone her organization skills, and she developed dozens of tips and tricks throughout the years. Following her husband's retirement, she and her family moved to a beautiful home in Charleston, South Carolina, where she is now able to pursue her own dreams. It is no surprise to her (or those closest to her!) that her passion is centered around organization. Nikki now runs her own professional organization firm, At Home with Nikki, in Summerville, South Carolina, and helps people to create beautifully organized spaces within their home and work environments.
Praise For…
---
"Might hers rival the lifestyle brands of Stewart and Rachael Ray?"
-- Ebony Magazine

"If traditional methods of organizing, such as plastic totes and fabric boxes, do not spark joy for you, check out professional organizer Nikki Boyd's Beautifully Organized for ways to bring form and function together in your newly arranged space."
-- Bustle