Vignettes & Postcards from Morocco (Paperback)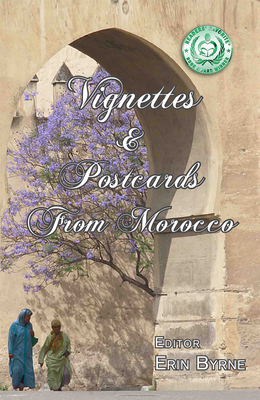 Description
---
As the chergui (desert wind) whips reality into fantasy and the perpetually full tea glass caresses its minty bouquet, from Casablanca to Tangier, from the crush of Marrakech to the ethereal solitude of the Sahara, from a rose festival in the countryside to a betrothal fair high in the Atlas Mountains, in alleyways and on rooftops, in the souks and on plains scattered with ruins, we invite readers to join us as we rotate in a dervish-dance with Morocco.

Thirty-three stories and poems--edited by Erin Byrne and written by Suzanna Clarke (A House in Fez), Jeff Greenwald, Michael Chabon, Phil Cousineau, Paul Bowles and others--vibrate inside this book, tales of quests and mysteries, of traditions and memory and wisdom that seek the ancient and celebrate the exotic in Morocco. Vignettes & Postcards from Morocco is a Foreword Book of the Year Finalist.
About the Author
---
Erin Byrne is the author of Wings: Gifts of Art, Life, and Travel in France, editor of Vignettes & Postcards from Paris and Vignettes & Postcards from Morocco, and writer of The Storykeeper film. Erin' s work has won Grand Prize Solas Awards for Travel Story of the Year, the Foreword Indies Book of the Year, an Accolade Award for film, and the Pinnacle Achievement Award. She has taught writing at Shakespeare and Company Bookstore and The American Library in Paris, at Book Passage, and on Deep Travel trips, and is host of LitWings event series in the Bay Area and Paris which features writers, photographers, and filmmakers.
Praise For…
---
"The stories in this mesmerizing collection will make you ache to travel throughout Morocco, and will sustain you until your next, or first, visit." —Larry Habegger, executive editor, Travelers' Tales Books

"Whether it's Jeff Greenwald's encounter with the kif-smoking Paul Bowles in Tangier, or Rolf Potts wandering a city he arrived in only by mistake, or Christina Ammon's quest for contraband Cabernet – or even the recipe you'll find for camel burger (don't forget the chopped mint) -- the contents of this book are sure to stoke your wanderlust.." —Jim Benning, co-founder of World Hum

"Some of my favorite writers create an evocative picture of a wonderfully diverse country. It's not about where to go; it's about how to think about it when you do. This a recommended read, unless you're going there in the near future, it which case it is mandatory." —Tim Cahill, author of Jaguars Ripped My Flesh and Hold the Enlightenment