The Language Lens for Content Classrooms: A Guide for K-12 Teachers of English and Academic Language Learners (Paperback)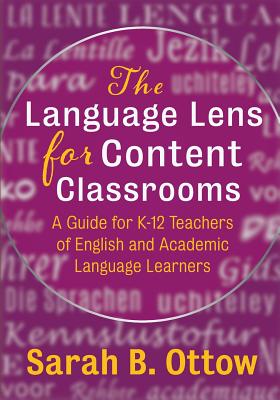 Description
---
Every teacher is a language teacher, every student is a language learner, and every classroom needs a Language Lens.
Sarah Ottow has spent 20 years helping schools and organizations develop a Language
Lens--a cultural and linguistic responsiveness that improves the learning experience
and achievement of every language learner. The Language Lens for Content Classrooms:
A Guide for K-12 Educators of Academic and English Language Learners is the starting
point for any general education, or content, teacher of:
English Language Learners: students who are learning English as a second (or more ) language, and who m ay not speak English at home.
Academic Language Learners: students who are learning the language necessary to access the curriculum--the nuanced language needed to process and apply content standards, skills, and knowledge that differ for every subject--who may or may not be ELLs.

It doesn't matter if you teach Chemistry, Gym, or Language Arts; any student can be
a language learner, so this guide is for every K-12 instructor who is looking to be
more eective, inclusive, and responsive in their classroom.