Left, Right & Christ: Evangelical Faith in Politics (Paperback)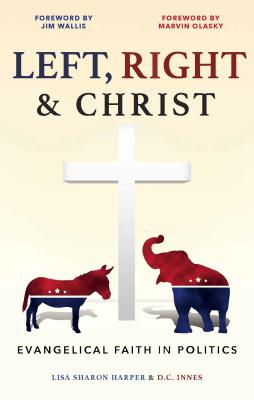 $19.99
Email or call for price
Description
---
How can two people have a common faith but different political loyalties?
How does the Christian faith shape how we should vote and participate in the political process?
In this updated edition of Left, Right, and Christ, authors D.C. Innes and Lisa Sharon Harper discuss and explore how the Christian faith speaks directly to American politics today, but with different understanding and applications. They address questions like:
Does God care about politics? Should we?
Is it the government's role to take care of the sick?
Do legalized abortions increase the number of abortions?
Should we support people's freedom to choose a definition of marriage, even if we disagree with their choice?
Does a free country mean that everyone is free to come here?
Is the earth so fragile that the government should step in to protect it?
Harper and Innes craft compelling chapters on hot issue that will keep Christian Americans thinking about how to navigate the intersection of faith and politics.
About the Author
---
Lisa Sharon Harper is the Chief Church Engagement Officer for Sojourners, a Christian organization promoting social, cultural, and environmental justice, and was the founding executive director of New York Faith & Justice-an organization at the hub of a new ecumenical movement to end poverty in New York City. She has written extensively faith and politics, and was recognized in 2015 as one "50 Powerful Women Religious Leaders" by the Huffington Post. She earned her master's in human rights from Columbia University and currently resides in Washington D.C.