Dispute Board Manual: A Guide to Best Practices and Procedures (Paperback)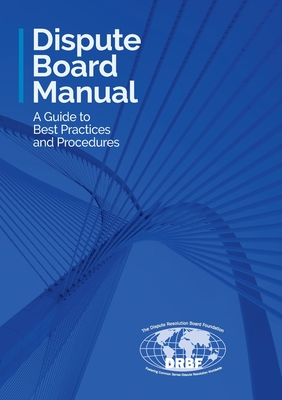 $50.00

Usually Ships in 1-5 Days
Description
---
The Dispute Resolution Board Foundation (DRBF) created this manual to provide an authoritative explanation of the Dispute Board (DB) process and to serve as a reference guide for users of the process throughout the world. The guide addresses the fundamentals of successful DBs and their important role in both avoiding and resolving disputes among the contracting parties on large and complex projects.
As the DB process has developed since the mid-1970s, different terms have arisen to suit particular variations. These variations share the same structure and fundamental purpose: to encourage dispute avoidance and to assist in timely and cost-effective resolution of disputes for the duration of a project.
This manual uses the term "Dispute Board," or its abbreviation, "DB," to refer to variations of the process, except when citing other names for context and educational purposes. In the United States and Canada, the most common terms are "Dispute Review Board" or "Dispute Resolution Board." In Australia, there is a preference for the term "Dispute Avoidance Board." For projects using FIDIC forms of contract or institutional rules, the most common terms are "Dispute Adjudication Board" or "Dispute Avoidance and Adjudication Board." This manual addresses any notable differences in procedures under these variations.
Given the widespread use of the DB process, additional terminology issues occur based on local language, industry terminology, contracting procedures and cultural differences. You may refer to this manual's Glossary for details.
This guide updates the DRBF's previous manual and explains practices and procedures that have evolved in the application of DBs. Special attention is given to recommended best practices, as well as cautions about modifications to the process which may be acceptable only in certain circumstances, or which are not recommended. The DRBF published its first "Practice and Procedures Manual" in 2004 and updated it in 2007.