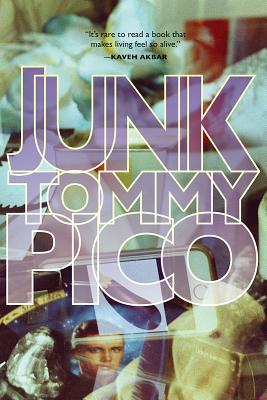 $15.95

Usually Ships in 1-5 Days
Description
---
An NPR Best Book of the Year



From 2018 Whiting Award winner Tommy Pico, Junk is a book-length break-up poem that explores the experience of loss and erasure, both personal and cultural.
The third book in Tommy Pico's Teebs trilogy,
Junk
is a breakup poem in couplets: ice floe and hot lava, a tribute to Janet Jackson and nacho cheese. In the static that follows the loss of a job or an apartment or a boyfriend, what can you grab onto for orientation? The narrator wonders what happens to the sense of self when the illusion of security has been stripped away. And for an indigenous person, how do these lost markers of identity echo larger cultural losses and erasures in a changing political landscape? In part taking its cue from A.R. Ammons's Garbage, Teebs names this liminal space "Junk," in the sense that a junk shop is full of old things waiting for their next use; different items that collectively become indistinct. But can there be a comfort outside the anxiety of utility? An appreciation of "being" for the sake of being? And will there be Chili Cheese Fritos?
About the Author
---
Tommy "Teebs" Pico is the author of the books IRL, Nature Poem, and Junk. He's been the recipient of awards and fellowships from the Whiting Foundation, the Lambda Literary Foundation, the Poetry Foundation, the New York Foundation for the Arts, and the Brooklyn Public Library. He co-curates the reading series Poets with Attitude, co-hosts the podcast Food 4 Thot, and is a contributor editor at Literary Hub. Originally from the Viejas Indian reservation of the Kumeyaay nation, he now lives in Los Angeles, CA.
Praise For…
---
Tommy Pico's books are contemporary epics. He writes poetry of rare brilliance, assured in form and forceful in its interrogation of myth and cultural expectations and self.
— Whiting Award Committee

Tommy Pico's new collection, Junk, is nimble as jazz, intentionally unstable, a queer Beat novel in verse for the social media age.

— Gregory Cowles, The New York Times Book Review

Junk is a true American odyssey, complete with a reluctant hero who defies all odds to survive. Repulsed by the trashiness of empire, the violence of occupation, this book nonetheless searches in earnest for real tenderness, a romance that isn't corny. . . .  This is poetry of the highest order, on the level of a pop song, with the crystalline visions of a seer. I consumed it greedily, repeatedly, and am forever changed because of it.

— Jenny Zhang, author of SOUR HEART

Pico
is the master of making the stone stony, of returning the sheer absurdity of
being to everything, from grief to intimacy to dating apps to donuts. Junk insists
on the urgency of the quotidian, of, to borrow a phrase from Pico, 'vibrant
inconsequence.' It's rare to read a book that makes living feel so alive.
— Kaveh Akbar, author of CALLING A WOLF A WOLF

Tommy Pico's complex and lush third collection, Junk, explodes, rewinds, meditates, and explodes again. It binges and purges—on class, identity, sex, politics, snacks, comfort, and fear. . . . Pico is a master of inclusion, of elevating the mundane to the sublime, of examining absurdity and grave seriousness with equal measure. This is an ambitious long poem, and Pico is uniquely qualified to both drag and celebrate modern day consumption and indulgence with graceful humor and grit.

— Morgan Parker, author of THERE ARE MORE BEAUTIFUL THINGS THAN BEYONCE

[Pico] weaves pop culture and slang throughout his deep-rooted criticisms of US history and culture, wooing readers into a comfortable, if brief, moment of familiarity (see: Janet Jackson lyrics) so that the swift pivot to violence and heartache hits like a gut punch.
— BuzzFeed

Whiting Award-winner Tommy Pico follows his cult favorites Nature Poem and IRL with a gloriously wide-ranging monologue on love and friendship, queer and indigenous identity, Janet Jackson and nacho cheese. Pico builds his own 21st-century poetics, junk and all—and as he writes, 'It's important / to value the Junk, Junk has the best stories.'

— NPR

You could—and should—read all of Junk in one feverish sitting, and you'll feel like it's been injected right into your gut, where all good and weird things and feelings live and breed. . . . I just want you to read it. So go do that. You'll thank me later.

— NYLON

Imagine Allen Ginsberg's 'Howl' littered with Morgan Parker's pop cultural panache, and you'll get Junk, Tommy Pico's brazen third book, a long-form breakup poem at once hilarious and harrowing.

— O, the Oprah Magazine (Editor's Pick)

This third book in a trilogy (following Nature Poem and IRL) is a stream-of-consciousness riff on junk and all its meanings, continuing to explore Pico's character Teebs in what could be a love poem or a break-up poem or both. . . . An ambitious and impressive work, using visceral language, that will appeal to a wide range of readers.

— Library Journal, Starred Review

Build[s] into an apocalyptic crescendo via Pico's propulsive fervor . . . Pico demonstrates that a person's many selves, traumas, anxieties, hookups, and breakups can become a marker of courage and survival.
— Publishers Weekly, Starred Review

[Tommy Pico] writes poems that are complex yet accessible, that sound like 2018 but that have staying power long past it, in the same way that O'Hara's poems resonate long past their midcentury milieu. . . . Through Pico's lens, nothing is not worth our attention.
— Los Angeles Review of Books

The genius of Junk lies in the poet's outward vision, in his ability, heeding 'the gusting forward of time,' to create new space for himself and others like him, to create a new sense of identity. . . . Heady, heartfelt and unforgettable, Junk stands out as the work of an original and vital voice.

— Shelf Awareness

Pico's poetry is like a syntactic tidal wave. His books are experiences, and Junk is a trip.

— The Millions, Must-Read Poetry

This is the thing about reading Tommy Pico's Junk: it's a book that simultaneously propels you forward with its limitless energy and beckons you to linger and parse out the multiple levels of text contained within.

— Literary Hub

A mash-up of humor, cutting-edge language, and shattered stereotypes, Pico's work paints a whole new portrait of queer identity . . . Truly incredible.
— PrideLife