Guts, Smarts and Love: Live Your Life The Army Ranger Way (Paperback)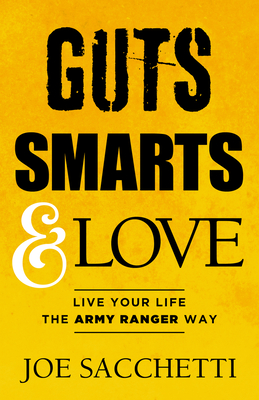 $18.95

Usually Ships in 1-5 Days
Description
---
Guts, Smarts & Love; Live Your Life the Army Ranger Way lights a clear and proven path to success in business and in life. A former U.S. Army Ranger-qualified Captain in the Airborne, author Joe Sacchetti highlights extraordinary profiles of everyday heroes called Army Rangers and the leadership principles they embody. You'll laugh with some, cry with some, and learn a little from all of them through the brotherhood of extensive military training and experiences on the battlefield.
Learn to uncover your own gut-level fortitude.
Think ahead and develop mental checklists for success.
Strengthen relationships with your associates, friends and family.
The lessons experienced under gunfire and starvation on the battlefield are yours to glean without the hardships. It's time to lead your life with Guts, Smarts & Love. Start living your life The Army Ranger Way.
About the Author
---
 Captain Joe Sacchetti is a U.S. Army Ranger-qualified paratrooper in the 82nd Airborne who served 2 tours in Iraq and was awarded the Bronze Star for actions in combat. After leading troops, he successfully transitioned to the business world. His 30+ years in sales and management have spanned the pharma and tech industries. A graduate of the MIT Sloan School of Business Executive Education program, Joe currently runs Global Channel Sales for a software startup. A 2-time Masters USA Track & Field All-American in the Half-Mile, Joe escorted the Olympic torch through his Pennsylvania hometown in 1980 on the way to Lake Placid, and he coached the 2014 Indoor Track High School National Champions at Cardinal O'Hara High School. His website www.ArmyRangeratMIT.com and YouTube channel both highlight global business, travel, and leadership experiences from visiting over 130 countries and learning to communicate in half a dozen languages. Joe is a proud father of three grown children, two of whom are now fellow Army officers.