A Life in Books: The Rise and Fall of Bleu Mobley (Hardcover)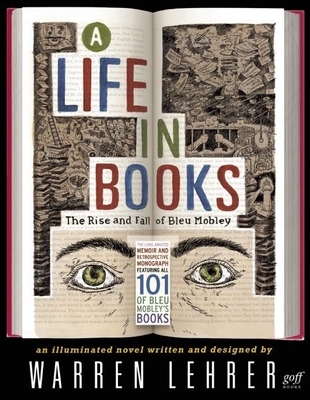 $34.95
Email or call for price
Description
---
A LIFE IN BOOKS: The Rise and Fall of Bleu Mobley is an illuminated novel containing 101 books within it, all written by Lehrer's protagonist who finds himself in prison looking back on his life and career. Nearly a year after the controversial author is thrown into a federal prison for refusing to reveal the name of a confidential source, he decides to break his silence. But it's not as simple as giving up a name to the grand jury. Over the course of one long night, in the darkness of his prison cell, he whispers his life story into a microcassette recorder, tracing his journey from the public housing project of his youth, to a career as a journalist, then experimental novelist, college professor, accidental bestselling author, pop-culture pundit, and unindicted prisoner. In A LIFE IN BOOKS, Mobley's autobiography/apologia is paired with a review of all 101 of his books. Each book is represented by its first-edition cover design and catalogue copy, and more than a third of his books are excerpted. The resulting retrospective contrasts the published writings (which read like short stories) with the author's confessional memoir, forming a most unusual portrait of a well-intentioned, obsessively inventive (but ethically challenged) visionary. Written and designed by award-winning author/artist Warren Lehrer, A LIFE IN BOOKS is an extraordinarily original, funny, heartwarming and heart-wrenching exploration of one man's use of books as a means of understanding himself, the people around him, and a half-century of American/global events. Rich with stories that spring from other stories, this genre-defying novel orchestrates a multicultural symphony of characters from Bleu's life and books: lovers, mothers, children, friends, enemies, teachers, students, runaways, rebels, thinkers, dreamers, believers, skeptics, the displaced and dispossessed. It celebrates the mysteries and contradictions of the creative process, and grapples with the future of the book as a medium, and the lines that separate truth, myth, and fiction. This four-color, full-length novel--containing over 101 hilarious and scrumptious book cover designs (and book-like objects)--fuses art and literature, and distinguishes itself as one of those books you'll want to hold in your hands, feast your eyes on, read and re-read, share with friends, and treasure for years to come.
About the Author
---
Warren Lehrer is a writer, designer, and multimedia artist known as a pioneer in the fields of visual literature and design authorship. His books, acclaimed for capturing the shape of thought and reuniting the traditions of storytelling with the printed page, include: "Crossing the BLVD: strangers, neighbors, aliens in a New America"; "The Portrait Series: a quartet of men" (four book suite); "GRRRHHHHH: a study of social patterns"; "French Fries; i mean you know; and versations."

He has received many awards for his books and multimedia projects including: the Brendan Gill Prize, the Innovative Use of Archives Award, three AIGA Book Awards, two Type Director's Club Awards, the International Book Design Award, a Media That Matters Award, a NY Book Show Best of the Best Award, and a Prix Arts Electronica Award. He's received fellowships and grants from the National Endowment for the Arts, New York State Council and Foundation for the Arts, the Rockefeller Foundation, the Ford Foundation, and others. His work has been exhibited widely and is in many collections including MoMA, LA County Art Museum, The Getty Museum, Georges Pompidou Centre, and Tate Gallery.

Lehrer is also a performer, and has co-written four plays, one opera, co-composed two audio CDs, and he co-produces public radio documentaries and audio works with his wife Judith Sloan. Lehrer is a professor at the School of Art+Design at Purchase College, SUNY, and a founding faculty member of the Designer As Author grad program at the School of Visual Arts. Together with Sloan, Lehrer founded EarSay, a non-profit arts organization dedicated to uncovering and portraying the lives of the uncelebrated in print, on stage, on radio, in exhibitions, electronic media, and through educational programs in public schools, community centers, and prisons.
Praise For…
---
"In A Life In Books, Warren Lehrer has written a profound commentary on this nausea-inducing unique moment in the grand transition from Silly Mind to Machine Mind. Amusingly and smartly enough, he may have helped transition 'the last great American novel' to the first 'great illustrated novel' which is how novels started. A Life In Books is brilliant, beautiful, delicious for eyes and mind."
Andrei Codrescu, public radio commentator, editor Exquisite Corpse, novelist, poet

"In Warren Lehrer's ingenious, one-of-kind novel, A Life In Books: The Rise and Fall of Bleu Mobley, we see all the covers of all 101 books supposedly written by the narrator over the last several decades... A tour-de-force!"
Kurt Andersen, Studio 360

"For anyone who has ever resisted judging a book by its cover, now's your chance: In A Life In Books, author and graphic design visionary Warren Lehrer crafts a vivid kaleidoscopic odyssey that frames one man's life through not one, but one hundred different booksand book jackets. In this quirky, yet unmistakably modern evocation of the illuminated manuscript, Lehrer's book reminds us that we are what we do. And, for that matter, what we publish."
Jessica Helfand, founding editor Design Observer, graphic designer, writer, educator

A meticulously illustrated chronicle Lehrer's 101 cover designs for Mobley's books are pitch perfect. And like the best film title sequences, which establish moods or introduce plotlines, these fictional covers are vehicles by which Lehrer illuminates Mobley's tale of success and failure. By no means a portfolio; Lehrer has created a parallel art world"
Steven Heller, The Atlantic

"A tour de force of graphic design, illustration and writing. Exploiting a wide range of illustration styles to delight the eye, Lehrer offers a funny, thought-provoking and refreshing twist on the graphic novel Guaranteed to bring a smile."
Ken Carbone, The Huffington Post

Warren Lehrer has spent a decade writing and designing a book that is way more than a book. A blend of writing and design, which extends to performance art A Life in Books: The Rise and Fall of Bleu Mobley is a typographical and design tour de force."
Ellen Shapiro, Print Magazine

"Warren Lehrer's novel A Life In Books is a masterpiece of visual storytelling, boldly integrating illustration and typography into its engaging story."
David Gutowski, Largehearted Boy

In the era of cookie-cutter books and rubber-stamped stories, Warren Lehrer's A Life In Books is fresh, original, idiosyncratic, beautiful, and important."
Rabih Alameddine, novelist and painter, author of Koolaids, I, the Divine, The Perv, Hakawati

Warren Lehrer is witty, ingenious, sly, serious, a graphic wizard and literary innovator. His crazily ambitious illuminated novel uses art and artifice to test our assumptions about how life is supposed to be in modern America So much more than a book, A Life In Books is an experience at once revealing and mysterious, a commentary on ego, celebrity and American society It plays like literary jazz: Lehrer's fingers pumping up and down on the keys, laying down pungent notes, sparkling phrases, lilting tunes about who we are and where we are going."
Dan Bailes, The Vision Thing

"A Life in Books: The Rise & Fall of Blue Mobley, a gorgeously produced multi-color novel," is a brilliant meditation on the state of publishing in the 21st Century. What is truth? What is fiction? Who is me," am I my nom de plume, and how can I turn us into a franchise or maybe even into two?! By the time you reach page 330 with pictures of Bleu's Book Lamps, you'll be laughing through your tears... I can't think of a better gift."
Tsiviah Huttner, Second City Tzivi

"In scope, execution and ambition, A Life In Books is an extraordinary book. Like a monk's painstaking production of an illuminated manuscript, it took Lehrer seven years to pull off. There's also a contest, a travelling exhibition with video, and a performance/reading tour Lehrer's books are like nothing you've ever seen before."
Lucy Sisman, Wword

"The coolest book ever." Designers and Books

"Stories told with humor, pathos, poetry, drama and the absurd" Brownstoner Queens

"A Life In Books is unique, incredible, affecting, meticulous, the perfect hide-and-seek game, and honestly, one of those works that seems so obvious and fertile as a structure, it's hard to believe it hasn't been done before. Am I gushing? I just love it. This is an important book."
Stephen Farrell, design innovator, Vas An Opera In Flatland and Toc: A New Media Novel
Awards

"A genre-defying night that fuses art and literature, prose and design into a multi-media presentation unlike any other." Skylight Books