Strange Fruit, Volume II: More Uncelebrated Narratives from Black History (Paperback)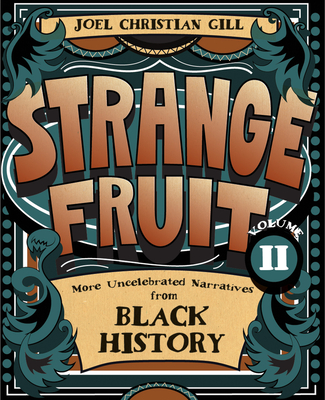 $19.95
Email or call for price
Description
---
Like all legends, people fade away, but not before leaving an incredible legacy. Strange Fruit, Volume II: More Uncelebrated Narratives from Black History is a collection of stories from early African American history that represent the oddity of success in the face of great adversity.

Each of the eight illustrated chapters chronicles an uncelebrated African American hero or event. Joel Christian Gill offers historical and cultural commentary on heroes whose stories are not often found in history books, such as Cathay Williams, the only known female Buffalo Soldier, and Eugene Bullard, a fighter pilot who flew for France during World War I. These beautifully illustrated stories offer a refreshing look at remarkable African Americans. 

The stories included in Volume II are: Jourdan Anderson who requested payment from his former slave owner; Stagecoach Mary Fields, the first African-American female star route mail carrier; Willie Kennard, the Sheriff of the Colorado gold mining town of Yankee Hill; Cathay Williams, the only known female Buffalo Soldier; Blind Tom Wiggins, an autistic musical prodigy; Millie and Christine McCoy, conjoined twins known as "The Two-Headed Nightingale"; Victor Green, the creator and publisher of "The Green Book for the Negro Motorist"; and Eugene Bullard, a fighter pilot who flew for France during WWI.
About the Author
---
Joel Christian Gill is the inaugural chair of Boston University's Master of Fine Arts (MFA) in Visual Narrative and associate professor in the CFA School of Visual Arts. He is also a cartoonist and historian who speaks nationally on the importance of sharing stories. He is the author of the acclaimed memoir Fights: One Boy's Triumph Over Violence, cited as one of the best graphic novels of 2020 by the New York Times and for which he was awarded the 2021 Cartoonist Studio Prize. He wrote and illustrated Fast Enough: Bessie Stringfield's First Ride and the award-winning graphic novel series Strange Fruit: Uncelebrated Narratives from Black History, as well as three volumes of Tales of The Talented Tenth, which tell the stories of Bass Reeves, Bessie Stringfield, and Robert Smalls. He has just completed the graphic novel of Ibram Kendi's National Book Award–winning Stamped from the Beginning: The Definitive History of Racist Ideas in America, forthcoming in June 2023. Gill has dedicated his life to creating stories to build connections with readers through empathy, compassion, and, ultimately, humanity.
Praise For…
---
"These fascinating stories are all presented in such an easily accessible and engaging way that I sat down to read one and finished the whole book. I can't imagine what sort of impact having learned these stories growing up would have had on me, but I believe I would have had more faith in myself, what I was capable of, and of my resiliency had I knows of these remarkable individuals." —Karyn Parsons, actress, The Fresh Prince of Bel-Air

"With Strange Fruit, Volume II, Gill continues to skillfully and thoughtfully tell the stories of the forgotten visionaries, revolutionaries, and everyday folks of black history. This book is a shining example of the need to share the lesser-known narratives that add to the richness and complexity of the black experience." —Whitney Taylor, author and illustrator, Wallpaper and Ghost Stories

STARRED REVIEW: "Immersive and magnetic from the very first page." —Russell Miller, Library Journal