Chef Fritz and His City: My Education in the Master's Kitchen (Paperback)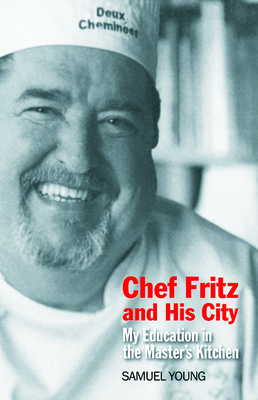 $19.95
Email or call for price
Description
---
It was the first visit to Philadelphia's Deux Cheminees restaurant for Samuel Young and his wife, Risa, and after the meal, Chef Fritz Blank came grumbling by to join them for a few minutes. Despite his rant, though, his eyes were merry, and he left the table with a joke about the tears of the city's chefs.

After that engaging introduction, it was hard not to say oui when the mail brought an announcement that a class with Blank would be introducing students to the preparation of three simple French meals, followed by a sumptuous lunch at Deux Cheminees.

That was the start of a personal and culinary odyssey over the years that took Young through kitchens and cooking schools, dining rooms and classrooms, and-most important-into a rich and abiding friendship with the great chef himself. Now Young's new book takes us all along the path that brought such a full menu of varied experiences, fascinating people, and immersion into the entertaining, warmly human story of the highly creative and talented Fritz Blank.
About the Author
---
Samuel Young has been a writer, editor, publisher, photographer, and photography editor, principally for magazines. His work has appeared in Holiday, Travel Holiday, Town & Country and Connoisseur, among other publications, on subjects ranging from food and travel to art, architecture, music, and the paranormal. The latter interest resulted in Psychic Children, a seminal book in the field, first published in 1977. A Harvard graduate, Young lived in New York, Umbria, Austin, and Philadelphia before moving to Albuquerque, where he resides with his wife, artist and designer Risa Benson. He remains an avid cook, thanks in large measure to the tutelage of Chef Fritz Blank. In recent years, he and Benson have taken up Argentine tango, a pursuit Young finds nearly as complex, inexhaustible, and rewarding as the world of gastronomy.