Things I Heard My Professor Say: Insights From My Favorite Business School Class (Paperback)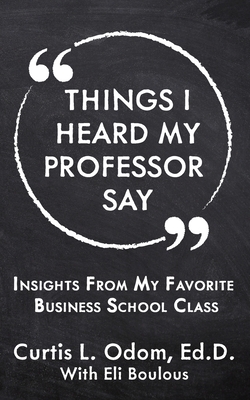 $10.00

Usually Ships in 1-5 Days
Description
---
I do not profess to know everything. I know a lot about a few things, which makes me open to learning something I have never heard of before. That, to me, makes learning fun When I am in my professor role on campus, I bring my 20-plus years of knowledge, skills, ability, and experiences to teach content by placing it into a real-life context. What makes the writing of this book so beautifully ironic to me is you will be reading the career learnings and lessons of someone who barely made it out of high school but who found their personal definition of success as a business owner and full-time faculty member at a top business school in Boston.
In the following pages, you will find over two decades of professional insights, lessons learned, and personal experiences as captured by a student in my class who gave me the greatest gift of my career: a transcript of me putting my entire career's worth of context into the content of academic lectures taught over a fall semester in a college classroom. This engaged student distilled the insights heard in what I said-as his professor-into simple statements that most impacted him. Clear proof that words matter.
--Curtis L. Odom, Ed.D.