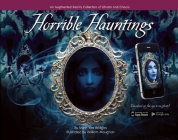 Description
---
This exciting new book brings to life--quite literally--ten famous hauntings from the annals of history. Using interactive augmented reality to enhance the images on the pages, readers are able to see and interact with 3-D ghosts, which appear to come alive and can be manipulated by the viewer.
Luscious illustrations of famous historical hauntings introduce readers to some of the most notorious and chilling ghosts throughout the ages. The Headless Horseman, the Flying Dutchman, Bloody Mary, the Amherst Poltergeist, and the Princes in the Tower are some of the eerie apparitions that inhabit this book in a totally new way as readers interact with the illustrations on the pages.
About the Author
---
Shirin Yim Bridges first book, Ruby's Wish, was a Publishers Weekly Best Children s Book and won the Ezra Jack Keats award. It is on several state reading lists, has been translated into seven languages, and is now in its eleventh edition. The Umbrella Queen made TIME/CNN s Top 10 Lists and was also named a Best Children s Book by the Bank Street College of Education. Horrible Hauntings won an IRA/CBC Children's Choices Award. Mary Wrightly So Politely launched in April 2013 to starred reviews in both Kirkus and Publishers Weekly. To date, every book that Shirin has written or published has achieved national acclaim. William Maughan graduated from the Art Center College of design with distinction in 1973. He began his career in commercial illustration in New York in 1974. Since that time his illustrations have appeared in numerous magazines, children s books, paperback book covers, and ad campaigns. He also teaches at the Academy of Art University, San Francisco, California, where he currently directs Graduate Studies Illustration."
Coverage from NPR