Grateful Table: Blessings, Prayers and Graces (Paperback)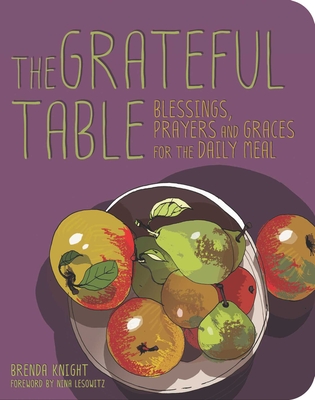 Description
---
What would happen if you sat down to dinner with the likes of Alicia Keyes, Jonathan Safran Foer, David Lynch, Morgan Freeman, Sir Ben Kingsley, Alton Brown, Neil Gaiman, Deepak Chopra and David Foster Wallace? Fascinating conversation, without doubt, and one of the things that all these folks have in common is that they practice gratitude and have a lot to say about it. These thinkers and luminaries included in The Grateful Table make this a thoroughly modern book of blessings, both heartfelt and deeply profound.

Saying grace is one of our loveliest traditions and one that has stood the test of time for good reason - it simply feels wonderful. Whether holding hands and praying to the heavens above or waxing poetic about the bounty of food, these blessings turn any group of people into family, connected by the power of gratitude. Compiled by the editor of and collaborator on the runaway bestseller Attitudes of Gratitude, Brenda Knight has employed the practice of gratitude for years. The Grateful Table is not your grandmother's book of graces. Filled with fresh voices and contemporary expressions, this book of blessings will make every occasion more meaningful.
About the Author
---
Brenda Knight is the author of Women Who Love Books Too Much and Women of the Beat Generation, winner of an American Book Award. A scholar of medieval literature and modern poetry, she lives in San Francisco, California.

Nina Lesowitz has over fifteen years experience orchestrating parties for corporations and organizations throughout northern California. She has planned special events on behalf of hotels, restaurants, medical centers, architectural firms, book publishing companies, and nonprofit organizations.Mary Beth Sammons is an award-winning journalist and women's issues columnist whose work appears frequently in Family Circle, the Chicago Tribune's lifestyle section, and leading consumer women's magazines. She is currently the "Finding You" editor for www.BettyConfidential.com and writes for various health and business publications. As an editorial vicepresident, Mary Beth launched the editorial departments of the largest consumer health online Web site--RevolutionHealth.com and its subsidiary, CarePages.com, for which she writes separate blogs. In addition, she is currently working with the Stanford Research Institute as editorial director of a storytelling project focused on consumer health and wellness. Mary Beth specializes in stories that inspire ordinary people to do extraordinary things from a place deep in their hearts. She has written six books in the women's self-help and mind/body/health field including, We Carry Each Other: Getting Through Life's Toughest Times (Conari Press, 2007). She lives in Chicago's suburbs with her three children.
Praise For…
---
"Silent gratitude isn't much to anyone." --Gertrude Stein
"Every day I've got to be thankful that I am alive, and you never know--the cliche is, I guess, you could get hit by a bus tomorrow, so you'd better be at peace with whatever you got going at the moment." --Joseph Gorden-Levitt
"It turns out that bliss--a second-by-second joy + gratitude at the gift of being alive, conscious--lies on the other side of crushing, crushing boredom. Pay close attention to the most tedious thing you can find (tax returns, televised golf), and, in waves, a boredom like you've never known will wash over you and just about kill you. Ride these out, and it's like stepping from black and white into color. Like water after days in the desert. Constant bliss at every atom."--David Foster Wallace
— Reviews
"Knight has lit the path of gratitude and spurred us to make this important spiritual practice the center of our lives. The quotations, exercises, and inspirational passages reveal the author's deep understanding of the bounties of spirituality put into our relationships, activities, and rituals." -- Spirituality and Practice
— Reviews