The Gluten-Free, Hassle Free Cookbook: Delicious, Foolproof Recipes for Every Day and Every Occasion (Paperback)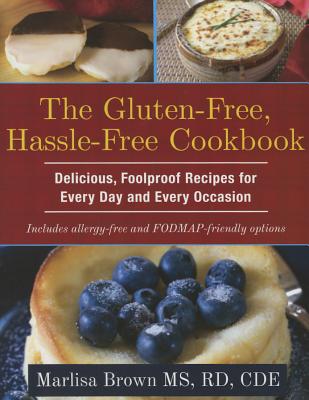 Description
---
Whether you are cooking for yourself, your family, or a crowd, preparing quick and tasty gluten-free meals doesn√ t have to be difficult or expensive. Registered dietitian Marlisa Brown shows you how to stock your kitchen with the essentials and shares the go-to recipes you√ ll want to make again and again, including easy breads, pies, and cakes. Recipes include nutrition, allergy, and FODMAPs information, as well as substitutions for other dietary restrictions.
With no fuss but lots of flavor, The Gluten-Free, Hassle-Free Cookbook delivers delicious recipes for every craving, including favorites you may have thought were impossible to create gluten free.
Simple Suppers: Oven-Baked √ Fried√ Chicken, Black Bean Burgers with Creamy Cilantro Pesto, Broccoli and Cheese Casserole
Easy Appetizers and Sides: Crab Cakes, Cheese Puffs, Zucchini Sticks, Batter-Fried Onion Rings
Comfort Food Classics: Buckwheat Pancakes with Cinnamon Apples, Macaroni and Cheese, Pizza, Deep-Dish Chicken Pot Pie
Breads and Biscuits: Skillet Corn Cakes, Irish Soda Bread, Pull-Apart Rolls
Luscious Desserts: Chocolate Peanut Butter Tart, Black and White Cookies, Cherry Vanilla Chip Shortbread
And much more.
Marlisa Brown, MS, RD, CDE, CDN is a registered dietitian, certified diabetes educator, chef, author, and international speaker. She is president of Total Wellness Inc., a nutritional consulting company that offers private counseling, wellness programs, culinary workshops, and corporate presentations. Brown has written for and contributed to many publications including Shape, Women√'s World, Fitness, and Newsday√'s Wellness magazine, and is the author of American Dietetic Association Easy Gluten-Free (with Tricia Thompson, MS, RD) and Gluten-Free, Hassle Free.