Finding Balance (Paperback)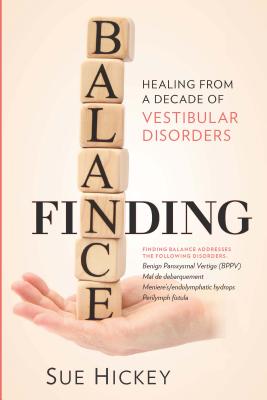 $19.95

Usually Ships in 1-5 Days
Description
---
Over 10 million adults in the United States have chronic problems with dizziness and imbalance - vestibular problems. This compares to 400,000 with multiple sclerosis or 1.5 million with autism for example, both chronic illnesses with much greater name recognition. Vestibular problems are difficult to diagnose and treat. While vestibular problems come with various medical names (Meniere's, Perilymph Fistula, Endolymphatic Hydrops, Benign Paroxysmal Positional Vertigo (BPPV), Mal de Debarquement (MdDS), and others) they present a common challenge for the affected person on how to deal with the dizziness and eventually find balance.
Finding Balance addresses over a decade of illness, from the initial two years searching for a diagnosis, through the long years of treatment and finally to the period of rebuilding a life within the confines of what dizziness and vertigo will allow. Finding Balance provides a detailed description of symptoms, what can trigger them, the emotional reactions to symptoms, how to recognize their subtle differences, and how to track them in order to contribute to your own diagnosis. It also emphasizes the patient's responsibility for healing and eventually how to find the inner balance in life that will be necessary to equitably live with these symptoms over time. And it provides a sense of time, of patience.
Special Features of
Finding Balance
Include:
Call-out boxes presenting facts and tips for dealing with the disorder
All of the medical information in the book has been reviewed by vestibular specialists for accuracy
Bulleted lists at the end of chapter with advice to the reader on next steps
About the Author
---
Sue Hickey is a retired executive who was diagnosed 12 years ago with vestibular disorders, commonly known as balance disorders. She has focused her full time attention for the past 12 years on healing from the series of balance disorders she lives with. In the process she has become a patient-expert on the subject of balance disorders.

Prior to her diagnosis she worked for 25 years in the energy and environmental field; her last position was as Chief Operating Officer of Bonneville Power (BPA). She currently serves on the Board of Directors for the Vestibular Disorders Association.
Praise For…
---
"This book is quite effective in commiserating with patients who feel alone in their condition and not understood by physicians. Balance disorder in general is an entity that is difficult to diagnose correctly without eliciting all of a patient's history and predicaments. The book is unique in the way it provides a patient expert's viewpoint of balance disorder."-Doody's Reviews

Vestibular disorders can cause overwhelming dizziness, vertigo, and other symptoms that can't be seen, and are difficult for otherssometimes, even close friends and family membersto understand. People struggle with their profound impacts on health, rela¬tion¬ships, and finances. Many people struggle alone. Finding Balance gives voice to these experiences, and in the process, brings needed recognition to the true hardships associated with having a chronic vestibular disorder. Lisa Haven, Executive Director, Vestibular Disorders Association

I wept when I finished this book, because finally I see someone else, the author, truly understands my daily challenges with a vestibular disorder. It's comforting to know that I'm not alone. family and friends will read this book as well as co-workers. Yet, I hope even grocery store clerks, bus drivers, restaurant waitresses, airline agents, and others working with the public will too. Then, they will understand when I ask for fewer loud noises and less fast motion around me that I'm balancing my life."Suzanne Hall Johnson, RN, MN, Editor Emerita, Dimensions of Critical Care Nursing

includes a series of approaches, from symptom tracking to personal reflection, the author devised to assist in her recovery. This book will be valuable to vestibular patients facing similar challenges as well as medical practitioners seeking further insight into their patient's experience."F. Owen Black, Director of Neurotology Research, Legacy Health

"Finding Balance is a must-read if you have a vestibular disorder, or know someone who does, and have taken a similar journey."Nancy Devine, President, DevineOne, LLC