The Voice of Our Congregation: Seeking and Celebrating God's Song for Us (Paperback)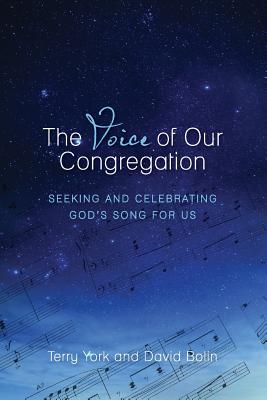 $17.95

Usually Ships in 1-5 Days
Description
---
"Each Sunday people drive past one or more local churches, which are closer to their home, to get to 'their church.' Often the by-passed churches include some of their own denomination, peopled, in part, by their friends and acquaintances. Why is that? What 'voice' is calling them to one particular congregation?"
What is the voice of your congregation?
"The congregation sings an important song, yet its voice is more than an echo of the Master. The congregation's voice is the voice of testimony, praise, and prayer, rising from the lives and hearts of its individual members as a great congregational chorus that harmonizes by the grace, and in the spirit, of God... Their song must express their heart and soul. Their song must 'fit, ' it must be authentic."
In The Voice of Our Congregation, Terry W. York and C. David Bolin challenge you to discover and claim the voice that is authentic to your congregation through Bible study, stories from a variety of congregations, and probing questions. Perfect for individual and group study, some of the discussion points are:
Do you find yourself tempted to copy the voice of the church down the street?
Are there songs and worship styles that "fit" your congregation and some which don't?
Have you discovered and claimed songs which are older treasures in your congregation? What are the new treasures for your congregation?
What is unique about your congregation? How is this reflected in the singing "voice" of your congregation?
How can you enable your congregation to claim songs which express their hearts and souls?
Terry W. York is Associate Dean for Academics and Professor of Christian Ministry and Church Music at Baylor University's Truett Theological Seminary. He has served churches in California, Arizona and Texas and was the Project Coordinator for the Baptist Hymnal, 1991. He is the author of Rehearsing the Soul (1999) and Observing the Rests (2003), both published by Abingdon Press; America's Worship Wars (2003), by Hendrickson Publishers and co-authored with David Bolin The Worship Matrix (2009) by Celebrating Grace. He has published more than 40 hymns and over 60 choral anthem texts.
C. David Bolin is Electronic Design Editor for Celebrating Grace, Inc. and serves as Minister of Music at First Baptist Church, Waco, Texas. He has previously served churches in Hawaii and Texas, and has traveled the world both as a performer and educator. His music and articles have been published by Celebrating Grace, Word, Lifeway, Beckenhorst Press, and Abingdon Press. God in Time, a collection of his hymn tunes with texts by Terry W. York, was published by Abingdon Press in 2005. He co-authored with Terry W. York The Worship Matrix (2009) published by Celebrating Grace.