Paradise Kiss, Part 1 (Paperback)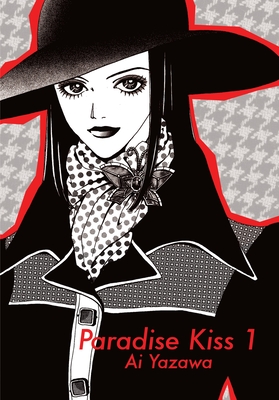 $19.95
Email or call for price
Other Books in Series
This is book number 1 in the Paradise Kiss series.
Description
---
Yukari is a spirited high school senior in the process of studying for her college entrance exams. Sadly the prospect of subjecting herself to a meaningless dull life leaves her feeling depressed about the future. In a bout of frustration, Yukari begins to ignore her courses and she begins to hang out with a group of fashion design students. But what Yukari doesn't know is that this circle is known as Paradise Kiss, and they are run by a pair of young designers already making their mark on the Asian scene. Furthermore, while her life is going to soon change, it will not be due to the elite political or commerce based future her family may have hoped for, instead her life may eventually be set in a world of high fashion, with her strutting down the catwalk as the face of Asian fashion!
About the Author
---
From 1999 to 2009 no shojo manga (girls comics) author in Japan sold more books than Ai Yazawa. Raised in Japan's Hyogo Prefecture, Yazawa grew up with ambitions to become a fashion designer. As a youth enrolled in the Osaka Mode Academy, one of Japan's most competitive fashion schools.

In 1985 Yazawa made her debut in the pages of the monthly girl's anthology RIBON with the title 15th Year. While her tales focused on young love, what captivated readers was her stunning sense of design. Since then she has gone to pen eleven more titles and has sold more than 100,000,000 books in Japan alone. Her title NANA was an international sensation, spinning off multiple movies, animated TV series, fashion lines and even inspiring international talents of music and film.

Paradise Kiss has been translated into 10 languages and is considered her defining work.
Praise For…
---
"Admittedly, the premise of Paradise Kiss sounds like an improbable schoolyard fantasy but the emotions are real. That message of individualism is also clear to see in Ai Yazawa's art style, which freely diverges from "normal manga" and instead takes its cue from the worlds of high fashion and counterculture. Highly original character designs, along with opulent surroundings and elaborate design elements, add up to a unique aesthetic experience." - Anime News Network's, "Right Turn Only"


"Pure soap opera, with riveting characters, this was most people's introduction to Yazawa in North America back in the Tokyopop days, and paved the way for Nana to be an even bigger hit. Glad to see Vertical putting [Paradise Kiss] back in print so it can get the attention it deserves." - Manga Bookshelf