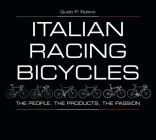 Description
---
There are bicycles. And then there are Italian bicycles. As with high fashion or sports cars, when the world speaks of racing bicycles the conversation soon turns to Italy. Seasoned cyclists know that an Italian bicycle is more intimately yours, a more personal possession, than a bicycle of other origin. Italian bicycles are built to race with passion, and to win.
"Italian Racing Bicycles" traces the rich history of 40 landmark brands intimately connected with racing. Not surprisingly, the brands have deep roots, some tracing their lineage back more than 100 years to the early days of the velocipede. They also share a hunger for advanced technology, pushing engineering to new heights with exotic metal alloys, elaborate weaves of expensive carbon fiber, and aerodynamic studies that help their bikes and riders cheat the wind for greater speed.
Beyond these commonalities, though, the stories diverge. The restless inquisitiveness of Ernesto Colnago could not be more different from the methodical calm of Ugo De Rosa, for example, and yet these two iconic frame builders contributed immeasurably to the racing victories of the great Eddy Merckx. The passion for experimentation of Pinarello, the brazen creativity of Cinelli, the barrier-bursting hour machine of Moser in search of racing victories, the volcanic inspiration of Italian artisans has repeatedly reshaped the dynamics of cycling.
Melding painstaking historical research with personal visits to each artist's workshop, author Guido P. Rubino has unearthed the stories, the methods, the dreams, and the personalities of these cycling firms, large and small, that have contributed so fundamentally to the glory of the sport. The brands: 3TTT, Alan, Ambrosio, Atala, Bianchi, Bottecchia, Campagnolo, Casati, Cinelli, Colnago, Columbus, Daccordi, Dedacciai Deda Elementi, De Rosa, Ganna, Gios, Gipiemme, Guerciotti, Legnano, Masi, Miche, Milani, Modolo, Moser, Olmo, Olympia, Passoni, Pegoretti, Pinarello, Rossin, Scapin, Selle Italia, Selle Royal Fi zi: k, Selle San Marco, Somec, Tommasini, Torpado, Universal, Viner, Wilier Triestina.
About the Author
---
Guido P. Rubino has been writing about cycling technology since 1996, with articles in such magazines as" BiciSport," "Cicloturismo," and "MTB Magazine." He is the coauthor, with Paolo Faccinetti, of "Campagnolo: 75 Years of Cycling Passion" and author of "La Bicicletta da Corsa" and "La Mountain Bike."
Praise For…
---
"To leave Italian Racing Bicycles on the coffee table would be a shame. A wonderful look back at the history of cycling and technology born out of competition." — VeloNews magazine
"Passionate fans of Italian bicycles, professional bicycle racing, the history of the sport and/or fine craftsmanship must add Italian Racing Bicycles to their collections." — Shelf Awareness
"Guido Rubino's coffee table book cataloguing all that is great and good about the Italian bicycle industry is a cycling fanatic's dream...The contents page should probably have been printed on greaseproof paper for the names thus presented will engender a serious amount of drooling on behalf of the cognoscenti." — The Washing Machine Post
"Italian Racing Bicycles finds a balance between the history of a company, the racing history of the brand, and some technical information…The photographs are pretty engaging. When I first got the book I thought I'd have a quick flick through it before getting on with something else. An hour later I was still flicking." — Podium Cafe
"Even the ardent bike enthusiast will learn a great deal from the finely-produced volume. [Italian Racing Bicycles] was clearly put together with the cooperation of the firms named and while it could have read like a big advertisement, [the book] avoids being an advertorial. The writing is straightforward and the majority of illustrations excellent." — Pezcyclingnews.com
"What we've got here is another tour de force, a gem of a book that tells, through photos and text, the story of Italian biking. From lugged steel, with its fancy carved metal work, to the latest carbon fiber wonders, this book provides the perfect excuse to go out for a ride, buy a new bike (Italian, of course), or head on over to Tuscany." — Boston.com
"Italian Racing Bicycles gives a broad overview of key Italian manufacturers….I particularly enjoyed learning more about the history of these companies, the men that started them, and their reasons for doing so. [Italian Racing Bicycles] won't answer all your questions but will start you on a journey for learning more. Grab a cappuccino, sit back, and enjoy." — Italian Cycling Journal
"From those readers who like to a take a walk down a lane lined with steel tubing, lugs and chrome to those who get excited as their bikes get lighter and lighter, Italian Racing Bicycles covers Italian bike and cycling component manufacturers from their start until the present day…This is a perfect catalogue/wish list for cycling enthusiasts." — Daily Peloton