Wonderful Marriage: A Guide to Building a Great Relationship That Will Last a Lifetime (Hardcover)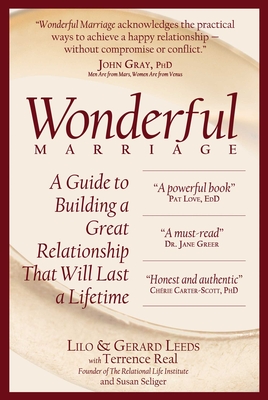 $19.95
Email or call for price
Description
---
Have you ever seen a couple who seems to know a secret? They hold hands, laugh often, seem connected with one another. Have you ever wished you and your spouse could have what they have? In today's society, it's easy to get discouraged about marriage. But it is possible to be a part of a happy couple instead of always in awe of them. Lilo and Gerry Leeds have been married for 57 years and they know what it takes to not only make a marriage work but to live together—happily.

In Wonderful Marriage: A Guide to Building A Great Relationship That Will Last a Lifetime, the Leeds discuss sex, communication, dating, finances, children, health, religion, arguing, honeymooning and many other critical relationship issues. This is not a conservative or old-fashioned guide to landing a spouse but a refreshing and easy-to-understand book that will help both partners in a marriage feel validated and satisfied.

The Leeds' message is strengthened by contributions from Terrence Real, a bestselling relationship author who has more than 20 years of experience as a family therapist.
About the Author
---
Gerard Leeds and Lilo Leeds are the founders of CMP Media, Inc., a leading publisher of business newspapers and magazines and provider of internet services for high-tech industries. They also founded the Institute for Student Achievement in New York City, and Gerard Leeds cofounded the National Academy for Excellent Teaching at the Teachers College, Columbia University. They live in Great Neck, New York. Terrence Real is a teacher, a family therapist, and the bestselling author of I Don't Want to Talk about It: Overcoming the Secret Legacy of Male Depression, How Can I Get Through to You? Closing the Intimacy Gap Between Men and Women, and The New Rules of Marriage: What You Need to Know to Make Love Work. He lives in Newton, Massachusetts. Susan Seliger is an award-winning writer, magazine editor, and editorial consultant. She is the author of Stop Killing Yourself: Make Stress Work for You.
Praise For…
---
"Familiarity can breed contempt or contentment. Heed the principles in Wonderful Marriage to make sure your relationship stays fresh, sexy and strong." —Ian Kerner, sex therapist and New York Times bestselling author, She Comes First

"Wonderful Marriage isn't just another relationship advice book. It is an honest and authentic approach to making a relationship work. It offers useful guidance and insight into what actually makes a partnership go the distance. Identifying the most vital issues in a relationship—money, sex, and children—is crucial. In addition, the authors don't neglect to address what causes most relationships to fail." —Chérie Carter-Scott, PhD, author, If Love Is a Game, These Are the Rules

"This book is about setting—and getting—high standards in marriage. . . . A powerful, practical book written by people who have walked the walk!" —Pat Love, EdD, coauthor, How To Improve Your Marriage Without Talking About It

"The specific ingredients to connect in all the ways that will create a happy, healthy and vibrant marriage for life." —Dr. Jane Greer, marriage and family therapist and author, How Could You Do This To Me? Learning To Trust After Betrayal

"Acknowledges the practical ways to achieve a happy relationship—without compromise or conflict." —John Gray, PhD, author, Men Are from Mars, Women Are from Venus

"Keeping this book by your bedside can help guide you from dating through sharing a whole wonderful life together." —Lisa Ronis, matchmaker