Dealing Death and Drugs: The Big Business of Dope in the U.S. and Mexico: An Argument to End the Prohibition of Marijuana (Cinco Puntos Checkpoint) (Paperback)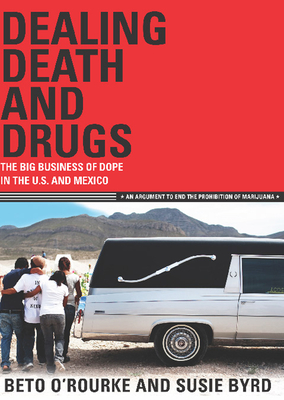 $12.95
Email or call for price
Description
---
In response to the violence destroying Juarez, two elected officials from El Paso ending marijuana prohibition as sound public policy.
The War on Drugs doesn't work. This became obvious to El Paso City Representatives Susie Byrd and Beto O'Rourke when they started to ask questions about why El Paso's sister city Ciudad Ju rez has become the deadliest city in the world--8,000-plus deaths since January 1, 2008. Byrd and O'Rourke soon realized American drug use and United States' failed War on Drugs are at the core of problem. In Dealing Death and Drugs -- a book written for the general reader -- they explore the costs and consequences of marijuana prohibition. They argue that marijuana prohibition has created a black market so profitable that drug kingpins are billionaires and drug control doesn't stand a chance. Using Ju rez as their focus, they describe the business model of drug trafficking and explain why this illicit system has led to the never-ending slaughter of human beings. Their position: the only rational alternative to the War on Drugs is to end to the current prohibition on marijuana.
If Washington won't do anything different, if Mexico City won't do anything different, then it is up to us -- the citizens of the border who understand the futility and tragedy of this current policy first hand -- to lead the way. -- from the Afterword
A portion of the proceeds from the sale of Dealing Death and Drugs will be donated to Centro Santa Catalina, a faith-based community in Ciudad Ju rez, Mexico, founded in 1996 by Dominican Sisters for the spiritual, educational and economic empowerment of economically poor women and for the welfare of their families.
About the Author
---
BETO O'ROURKE is currently a candidate in the 2022 race for Texas Governor. A fourth-generation El Pasoan, he previously ran a widely popular campaign for Senate, served three terms in the House of Representatives, and two terms on the El Paso city council. SUSIE BYRD currently serves as director to the Aerospace Center at the University of Texas at El Paso. She previously ran the office of congresswoman Veronica Escobar, and also served two terms on the El Paso city council.
Praise For…
---
"A levelheaded, analytical exploration of why the drug war isn't working, and how the regulated legalization of marijuana could help stem a hemorrhage of blood and money Dealing Death and Drugs almost overwhelms with statistics, but it kind of has to." —Texas Observer

"It makes sense that those with a truly front row seat to the destruction of the Drug War would give birth to a treatise on marijuana legalization It's a message that is sure to resonate with others if this tract can gain public notice beyond the reaches of the border, where residents are already intimately acquainted with the price of prohibition." San Antonio Current

" a highly readable political manifesto for a more reasoned and enlightened drug policy O'Rourke and Byrd are to be commended for courageously and intelligently broaching and suggesting concrete policy changes concerning controversial issues upon which the future of El Paso, Juárez and other U.S.-Mexican border communities depend." Howard Campbell, El Paso Times